Press Statement
Pakistani journalist escapes abduction attempt
11 Jan, 2018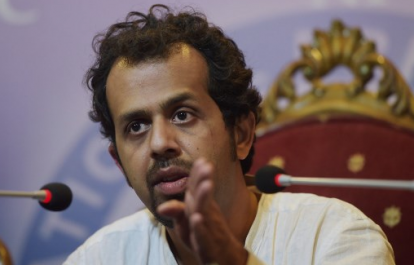 The International Federation of Journalists (IFJ) today condemned the attack and abduction attempt on journalist Taha Siddiqui in Islamabad, Pakistan on January 10. The IFJ demands swift investigation into the incident to punish the perpetrators to ensure the security of the journalist.
Siddiqui, the Pakistan bureau chief of India-based World Is One News (WION) television news network and a regular contributor to international media including the New York Times and France 24, was intercepted by around a dozen gunmen while he was in a taxi on the expressway to the airport. The gunmen pulled him out of the taxi, threatened to kill him and beat him up before pushing him into a vehicle. He managed to escape by jumping out of the moving vehicle, crossed the expressway and hailed a taxi. He stopped at a police station seeking refuge.
In a tweet posted from journalist Cyril Almeida's account, Siddiqui said: "I was on my way to airport today at 8:20 am when 10-12 armed men stopped my cab & forcibly tried to abduct me. I managed to escape. Safe and with police now. Looking for support in any way possible."
"I shall not be silenced," he later tweeted from his own account.
The journalist said that police has not registered the First Information Report (FIR). "Police not registering my FIR of attempted kidnapping & murder & have told journalists that my 'statement contains references to sensitive agencies," Siddiqui subsequently tweeted.
Siddiqui, who is known for his critical reports on security agencies, was summoned by the Federal Investigation Agency (FIA) to appear before its counterterrorism wing in May 2018, after he posted comments on social media against the military. Siddiqui refused to appear, citing risk to his wellbeing and filed a petition with the Islamabad High Court alleging that the FIA had harassed him, after which the Court ordered the FIA to stop harassing the journalist.
IFJ General Secretary Anthony Bellanger said: "The IFJ condemns the incident and is seriously concerned for the safety of critical journalists in Pakistan. The attempt to abduct journalist Taha Siddiqui in broad daylight on a highway shows the lack of security situation for journalists in the country. This is unacceptable and the Pakistan government should ensure swift investigation by registering the FIR to arrest the perpetrators and punish them. He also received the Albert-Londres Prize in 2014, meaning that the attack also targeted a high level journalist who publishes accurate information despite the context."
Photo: Taha Siddiqui. ®Aamir Qureshi/ AFP
Written By

IFJ Asia-Pacific
The IFJ represents more than 600,000 journalists in 140 countries.
For further information contact IFJ Asia-Pacific on +61 2 9333 0946
Find the IFJ on Twitter: @ifjasiapacific
Find the IFJ on Facebook: www.facebook.com/IFJAsiaPacific
Comments