Pakistan
Pakistani media in crosshairs
23 Sep, 2015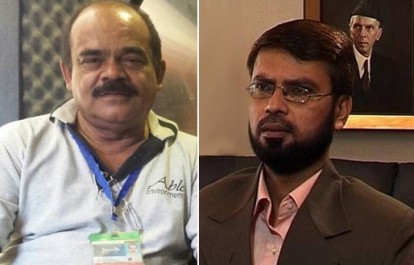 September didn't begin well for the Pakistani media. In less than 24 hours, two media personnel were killed and two seriously injured in a series attacks in two cities.
On the night of September 8, 2015 a DSNG van of Geo News was attacked by unknown gunmen riding a motorbike on a busy road of the southern port city Karachi. Geo News satellite engineer Arshad Ali Jafri received nine bullets in the upper torso and head region and died on the way to the hospital.
This attack also left the DSNG's driver, Anees, injured – he received two bullets in his shoulder. The brave but wounded Anees rushed Jafri to the nearest hospital but it was too late (http://goo.gl/vPlO0i).
As Jafri was breathing his last and being rushed to the hospital, news started pouring in of an attack on Abdul Azam – a journalist working for the state-run channel Pakistan Television (PTV) in Khyber Pakhtunkhwa – from across the country. Azam was shot three times, again by unknown gunmen, but he survived.
The media fraternity has hardly recovered when news started flooding in the afternoon of September 9 of the killing of senior journalist Aftab Alam near his home in Karachi. Alam had been shot thrice in the head and had died on the spot.
Pakistan was the deadliest country for journalists in 2014 – with 14 journalists killed. 2015 was being seen as a relatively better year. But then the three attacks within 24 hours may have tilted this opinion.
Earlier in January 2014, the DSNG van of another Pakistan channel – Express News – was attacked by gunmen on a motorbike in which three people – a technician, security guard and a driver – lost their lives. http://goo.gl/HVNJTX
The Tehrik-e-Taliban took responsibility of this attack on Express News van.
There is little doubt that Pakistani media staff works in the most dangerous conditions –with no safety training or gear they are vulnerable every time they go out for a story. Despite these dangerous they keep doing their jobs to support their families.
Ahmed, who works as a DSNG driver at a local channel (does not want name of the channel disclosed) said he and other staff (non-journalists) were vulnerable and easy targets for the criminals since they spent most of their time on duty in the open.
"We may not be famous like Hamid Mir (senior Pakistani journalist who was attacked last year in April in Karachi by unknown gunmen and shot 6-7 times) but the criminals don't seem to care. If they can't target the important names, they know they will make the news if they attack the DSNG vans." Ahmed said. "We are constantly exposed to danger without any safety gear or compensation and insurance for our families if anything happens to us."
However, as seen in the case of the Express News DSNG attack in 2014, not even an armed guard was a match to the deadly attack.
Shakeel Shamim who is part of a media team of a local channel said that he and his colleagues are afraid to work because of the attacks on media staff and he says many of the people are depressed because they see people like themselves – sometimes friends – being gunned down for no fault of theirs.
"We are not highly paid and we really work hard to make money to support our families." Said Shamim. "But these gunmen spray bullets and kill people they don't even know. They don't seem like human."
Karachi Union of Journalists (KUJ) General Secretary Wajid Raza Isfahani said during a protest against the killings that the government should take some solid steps to provide the media teams with some sort of protection from such attacks.
Isfahani said the Sindh Rangers' continuing Karachi Operation had brought the crime rate of Karachi down but there was still a lot that had to be done in the wake of the attacks on vulnerable media crews.
He said the media owners need to own their staff and take steps to secure their workers and compensate their families in the event of their deaths.  Adding Isfahani said the KUJ condemned these attacks in the strongest of words and said that they would stand by any journalist who came under attack.
Many in Pakistan, including media personnel, no longer believe the hollow promises and condemnations coming from the political leaders gushes forth following every murder.
These promises need to be backed by actual action and a concerted plan to actually tackle and erase the menace. But until that happens, the Pakistani media will remain in the crosshairs.
Lubna is the head of content, social media at the Jang/Geo Group
Written By
Comments