Freedom of Expression
Pakistan's media watchdog takes note of hate speech
20 May, 2015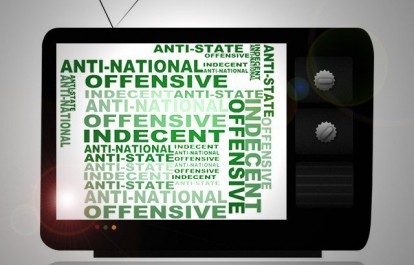 Recently government supported media watchdog Pakistan Electronic Media Regulatory Authority (PEMRA) in Pakistani issued 14 show-cause notices to TV channels for airing  Muttahida Quami Movement (MQM) chief Altaf Hussain's – a local political party based in Karachi – alleged hate speech against the armed forces.
These notices were issued under Section 27 of PERMA which states, "The Authority shall by order, giving reasons in writing for declaring the order, prohibit any broadcaster or CTV operator from broadcasting or re-broadcasting or distributing any programme if it is of opinion that such particular programme is likely to create hatred among the people or is prejudicial to the maintenance of law and order or likely to disturb public peace and tranquillity or endangers national security."
Several journalists are concerned by these notices, because as they say, it is their job is to report facts and they or their channel should not be held responsible for the content of a live speech.
Young journalists are more concerned and say they need a clear definition of hate speech so that they can be careful. "One person's speech may be hate speech for another. Who will determine this?" Asks journalist Fatima Zakir. "We are hardly taught anything relevant to the field in university, we learn most of the skills on the job. How are we supposed to identify what will fall under hate speech?"
PEMRA's lawyer Kashif Hanif commented on this issue of show-cause notices said, "PEMRA has only issued notices to these TV channels according to the law. PEMRA laws are quite comprehensive and the law is complete and has provision to regulate different issues including hate speech."
"PEMRA is not only regulating but also trying to bring media within certain laws. We want media to self-regulate itself but a lot of work needs to be done on this; a lot of channels and anchor persons sometimes air things or opinions that could have been regulated and aired in a better way – most channels need to pay attention to the quality of work that is being aired – except for a handful of channels like Geo News and Dawn News which has senior journalists who probably help regulate the content." Hanif said.
He said PEMRA is very active and takes notice of the programmes aired including advertisements. He also said that PERMA has taken action against hate speech before.
"PEMRA does take action against content that might spread discontent among the masses. Like for example, we took action against anchor person Mubasher Lucman for inciting hate through his talk show. And then we also took action against a beeper of cricketer – Shoaib Malik – who used abusive language on air." Hanif said.
However, there seems to be some confusion regarding the definition of hate speech, as it means different things for different sections of society.
As a Karachi-based lawyer, Advocate Ameeruddin, says, "What is the definition of hate speech? What one section thinks of as hate speech, may not be considered so by another section?"
"Take for example a similar speech of the now Defence Minister Khwaja Muhammad Asif (2013) in which he had criticised the armed forces a speech in Parliament before becoming defence minister. If PEMRA didn't take action on his speech, why have they taken action against MQM's Altaf Hussain?" Asks Ameerduddin. "The law cannot be used against one and not against the other."
Replying to why PEMRA didn't take action against a similar hate speech by Khwaja Asif in Parliament in 2013, he said the laws are equal for all but this may have been missed by the organization. He said that although PEMRA is doing its job vigilantly, the viewers also need to do their part and contact PEMRA's helpline on such violations.
Meanwhile, Pakistan Federal Union of Journalists' (PFUJ) Secretary General Amin Yousuf said that the media's job is to report and analyse and that is what it is doing in Pakistan. He added it was not fair to punish the media.
He was firm when it came to the dangers of curbing the media and said, "PFUJ does not accept any move to curb the voice of media. If anybody is doing wrong, media is not responsible. If anyone has any objections, they should consult court of Law."
Lubna is the head of content, social media at the Jang/Geo Group.
Written By
Comments