Press Statement
PFUJ condemn manhandling of anchorperson
05 Jan, 2020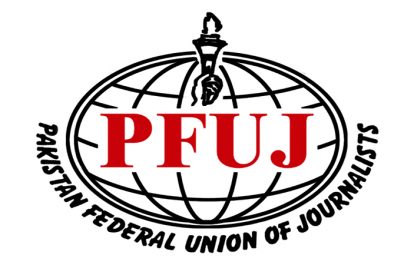 The Pakistan Federal Union of Journalists (
PFUJ
) has strongly condemns the incident of manhandling of anchorperson Mubashar Luqman by Federal Minister Fawad Ch and demanded the Prime Minister Imran Khan to take action against the Minister.
Federal Minister Fawad Chaudhary and his body guards manhandled famous anchorperson Mubashar Luqman for some personal differences over a talk show while they were attending a marriage ceremony here in a hotel at Lahore on Sunday. Fawad ch slapped Mubashar and passed some immoral comments.
PFUJ
 President GM Jamali and Secretary General Rana Azeem condemned the incident and asked the Prime Minister Imran Khan to take action against Fawad Ch otherwise the 
PFUJ
 would stage countrywide protests.
"We consider the manhandling incidence tantamount to attack on the freedom of journalism. The 
PFUJ
 will not bear such behaviour of the Federal Minister. Infact this is the second such incident of manhandling of Fawad ch. he had also manhandling another anchorperson a couple of months ago. the coverage of the ruling party will be stopped if the PM did not take action against the minister," the 
PFUJ
 leadership said.
Written By

Pakistan Federal Union of Journalists
Pakistan Federal Union of Journalists 8A Aboot Road, Lahore, Pakistan Phone: +92 321 4613322
Comments