Press Statement
PFUJ condemn mob attack at Hyderabad Press Club
04 Mar, 2016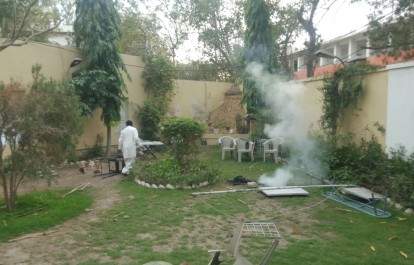 The PFUJ strongly condemn the mob attack at Hyderabad press club & others cities.
PFUJ President Rana Azeem and Secretary General Amin Yousuf said that it is highly unfair to attack journalists' community. Journalists, Cameramen and Photographer are not responsible for any type of censorship. The PFUJ leadership demanded that Government should take notice and provide security to Media persons and Press Clubs.
In Hyderabad the media persons came under attack at Hyderabad Press Club on Friday afternoon when demonstrator entered into the club premises and dealt them with blows and kicks, ransacked the furniture and torched the motorbikes on fire. Many of media persons saved their lives while jumping the walls resulting to injuries to them. Cameraman 92-News Qasim received fracture in leg while reporter Daily Mehran Niaz Vighio also received injuries.
Before arrival of processions, numbers of telephones were made to high ups of the district and divisional police officers but none of them attended the calls. Later SSP Hyderabad reached Hyderabad Press Club along with heavy contingent deployed the forces at different spots. Fire tenders were called to control over the fire.
Meanwhile, the protesters at Lahore has also attacked journalists including President PFUJ Rana M. Azeem who had sustained injuries and was taken to the hospital for treatment. Hundreds of activists of Sunni Tehreek had gathered after Juma prayer to protest and they damaged a number of vehicles and AAJ News TV office at the Mall Road. They attacked the media persons who were covering the protest at Bhaatti Chowk while later attacked media men performing their duties to cover the protest at Fisal Chowk Lahore to show their anger for not being telecast on the news channels. They were batten charging cameramen and reporters when President PFUJ Azeem came there and tried to save the working journalists from them The protesters did not listened to him and started batten charge on him as well.
All this was happening in the presence of police deputed their to secure the property and any such incident but they did not even bothered to provide security to the journalists performing their duties.
Written By

Pakistan Federal Union of Journalists
Pakistan Federal Union of Journalists 8A Aboot Road, Lahore, Pakistan Phone: +92 321 4613322
Comments