Press Statement
PFUJ member killed and threats to journalists continue in Pakistan
05 Feb, 2014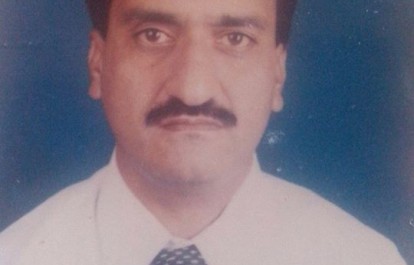 The International Federation of Journalists (IFJ) joins its affiliate, the Pakistan Federal Union of Journalists (PFUJ), to express its sympathy for murdered journalist and PFUJ member Afzal Khawaja in Baluchistan provinceearlier this week and again calls on government action after a separate incident involving threats to the news director of Karachi-based Geo News TV.
Khawaja, 45, a correspondent for the Daily "Zamana" Quetta and the Daily Balochistan times in Quetta in UsstaMuhhamad, a district of Jafferabad, was travelling home in a taxi with his son on February 2 when the car was fired upon in a purported attempted robbery. Afzal Khawaja died at the scene while the taxi driver died later en route to hospital. Khawaja leaves behind a wife, three sons and twodaughters.
Ongoing high levels of violence and intimidation toward journalists in Baluchistan remain a key area of concern for the PFUJ and the IFJ.
"Journalists are particularly at risk in the province and a number of journalists and media workers have lost their lives in the line of duty," the PFUJ said this week.
"We will not tolerate the government's continued apathy toward the loss of precious lives. We demand immediate arrests of those involved followed by appropriate punishment".
The PFUJ and the Balochistan Union of Journalists (BUJ) have condemned the killing and called on the provincial government to take notice of law and order in the troubled region and trace the culprits.
This is the fifth murder of a journalist in Pakistan in as many weeks. Investigative journalist Shan Dahardied on January 1 and media workers Khalid Khan, Waqas Aziz Khan and Ashraf Arianwere killed in a separate shooting as they sat in their van on Friday January 17. The PFUJ has conducted widespread national campaigns following the 2014 bloodshed.
"The IFJ is deeply concerned about the day-to-day threats faced by Pakistani journalists and the ongoing climate of impunity that leaves justice denied in the case of journalist murders," IFJ Asia Pacific director Jacqui Park said.
"The tragic shooting in Balochistanhas come just days after Geo News TV news director, Ansar Ali Naqvi, became the target of a campaign of threats by the Islamist militant group AhleSunnatWalJamaat. We condemn this rampant culture of violence and intimidation and call on Pakistan police forces to investigate any threats swiftly so no further loss of life is incurred."
Written By

IFJ Asia-Pacific
The IFJ represents more than 600,000 journalists in 140 countries.
For further information contact IFJ Asia-Pacific on +61 2 9333 0946
Find the IFJ on Twitter: @ifjasiapacific
Find the IFJ on Facebook: www.facebook.com/IFJAsiaPacific
Comments