Press Statement
PFUJ strongly condemns the downsizing of journalists in ARY News and AAJ News
02 Oct, 2019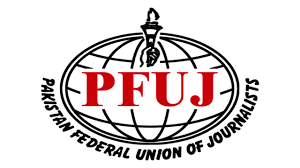 Pakistan Federal Union of Journalists (PFUJ) has strongly condemned the downsizing of journalists in ARY News and AAJ News and once again demanded government of Pakistan to take action against this unlawful termination of working journalists in the country.
The management of ARY News and AAJ News has reportedly terminated as many as 150 journalists from Karachi head offices. ARY News has terminated 100 while AAJ News has shown door to 50 journalists in the name of downsizing.
"We have been demanding the Prime Minister Imran Khan and responsible government agencies to take action and stop the media organizations to unlawful downsize the working journalists. we once again urge the government to take notice and stop this act of making journalists jobless," said PFUJ leadership.
President PFUJ GM Jamali and Secretary General Rana Muhammad Azeem said that the Pakistani journalists has already been facing a lot of hardships and irregular payment of wages. "Certain media groups have already unlawfully terminated a number of journalists to strive and despite strong protests led by PFUJ, but the government has given cold shoulder to the issue that spur the other media houses to terminate their worker. This is a great failure of the Federal Information Ministry and Federal Government," they opined.
The PFUJ has decided to have consultations with legal fraternity and announce a country wide protest against this brutal act of downsizing.
Written By

Pakistan Federal Union of Journalists
Pakistan Federal Union of Journalists 8A Aboot Road, Lahore, Pakistan Phone: +92 321 4613322
Comments