Press Statement
PFUJ, unions lock down Dunya News group head office
05 Sep, 2019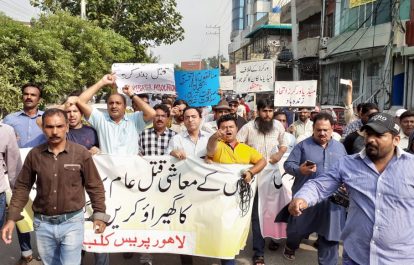 The Pakistan Federal Union of Journalists (PFUJ) led the protest rally and lock down of the Dunya News group head office in the afternoon here on Tuesday, today.
Secretary General PFUJ Rana Muhammad Azeem led a big protest rally from Lahore Press Club to Dunya News head quarters about one kilometer distant from the club. As many as 500 workers, officials of the Lahore Press Club and leaders of different unions also participated the rally to register protest against forced & unlawful terminations from the Dunya News media group. The rally participants reached Dunya News and locked down the Dunya group head quarter. They sat in-front of the In and Out gate of the Dunya News head office for more than three hours under scorching sun. The protesters were holding bill boards and banners with chanting slogans to condemn the downsizing of the journalists.
It may be recalled that the DUNYA News group had terminated as many a 70 journalists under a downsizing drive with out any warning or notice of charge, a couple of days ago.
The leaders of the different Unions strongly condemned the unlawful terminations of journalists from Dunya News group and demanded that the terminated workers should be reinstated.
While addressing the rally, Secretary General PFUJ Rana Muhammad Azeem said that the media owners had been making money with hard work of the media workers but now have planned to forcefully terminate them.
"The unlawful termination of the journalists from any media house is not acceptable. We demand the restoration of jobs and hope that it will be done amicably otherwise the Unions will be forced to take other sever steps. We warn the other media houses to avoid such unlawful practices otherwise the workers can snatch their rights," Rana Azeem said.
The lock down sit in was adjourned in the evening and it was announced to continue the same till the restoration of journalists.
Comments