Press Statement
Photojournalist killed in targeted attack on election rally in Afghanistan
15 Oct, 2018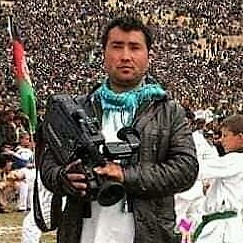 Photojournalist M Asif Hakimi was among 22 killed in a bomb blast on an election gathering in northern province of Takhar, Afghanistan on October 13. The International Federation of Journalists (IFJ) joins its affiliates the Afghan Independent Journalists Association (AIJA) in strongly condemning the attack and demands immediate action from the government to guarantee the safety of the media in Afghanistan.
Hakimi was killed when a motorcycle bomb was detonated around midday targeting the campaign rally of Nazifa Beg, a female candidate from Rustaq district of Takhar. Hakimi was among 22 people killed, and a further 32 were injured. Afghanistan is holding parliamentary and district council elections on October 20. Election-related attacks have surged since the registration of candidates and votes began in July and at least 8 candidates and many other civilians have been murdered in attacks.
AIJA President Rahimullah Samandar Khan said: "The AIJA strongly condemns the incident and calls upon government to investigate the incident immediately and take stronger measures to protect journalists during election campaigns and cover
age."
According to IFJ records, 16 journalists and media staffs have lost their lives in Afghanistan in 2018 making it the deadliest country for journalists in the world.
IFJ General Secretary Anthony Bellanger said: "The IFJ strongly condemns the killing of journalist Asif Hakimi, in an explosion in Takhar province in Afghanistan. The IFJ calls on the Afghan government to investigate and take stronger measures to protect journalists during election campaigns as Afghanistan goes into the election on October 20 amid the threats of bloody violence. It's time that the Afghan government ensures the high level of security for the journalists to cover the election to ensure that election are held fairly and people are continuously informed at this critical time."
Written By

IFJ Asia-Pacific
The IFJ represents more than 600,000 journalists in 140 countries.
For further information contact IFJ Asia-Pacific on +61 2 9333 0946
Find the IFJ on Twitter: @ifjasiapacific
Find the IFJ on Facebook: www.facebook.com/IFJAsiaPacific
Comments