Press Statement
Police assault dozens of journalists covering political demonstration in Kolkata
24 May, 2017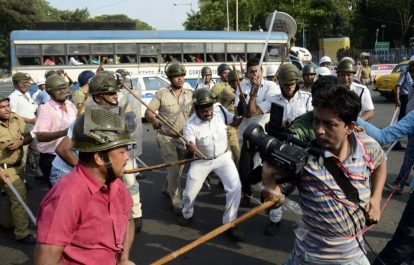 The International Federation of Journalists (IFJ) joins its affiliate the National Union of Journalists (India) is condemning two incidents of police brutality against media workers in Kolkata, India on Monday, May 22. The IFJ demands immediate action against the police officers involved in the attacks.
On Monday, at least 50 media workers were attacked and beaten by police officers and personnel of the Rapid Action Force (RAF) as they covered a protest march organized by the Communist Party of India (Marxist) in at the Esplanade in Kolkata, West Bengal. The attack saw at least a dozen journalists and media workers seriously injured and required hospital treatment.
In a separate incident, journalists were gathering near Dufferin Road in Kolkata to protest against the attacks last week in the same area, when they were charged at by police and attacked.
The police quickly apologized for the incidents stating that they were undesirable and promised to investigate the assaults and take departmental action against those responsible.
These latest attacks come just a week after photojournalists were attacked by a police driver as they covered a fire in the Kohinoor building on the well-known Park Street in Kolkata.
NUJ(I) President Ras Bihari said that the union would send a fact finding team to Kolkata and demanded to the state government to set up a high level committee to probe the incident and punish the guilty police officers for assaulting journalists.
West Bengal Union of Journalists (WBUJ) President Prabir Chatterjee claimed that the merciless atrocity on journalists was instructed by senior police officers. The WBUJ demanded adequate compensation to the injured journalists.
The IFJ said: "We stand with the NUJ India in demanding an investigation into the string of incidents in Kolkata in the past week. Journalists are facing increasing challenges working in India, and attacks such as these create a volatile working environment for the media. Action needs to be taken to ensure the media are safe and secure as they work."
Photo: Journalists and media workers were attacked for a second time in less than a week in Kolkata, India. Credit: Tanmoy Bhaduri
Written By

IFJ Asia-Pacific
The IFJ represents more than 600,000 journalists in 140 countries.
For further information contact IFJ Asia-Pacific on +61 2 9333 0946
Find the IFJ on Twitter: @ifjasiapacific
Find the IFJ on Facebook: www.facebook.com/IFJAsiaPacific
Comments