Attacks on Media
Police withdraw protection to senior journalists leader despite threats for life
11 Dec, 2014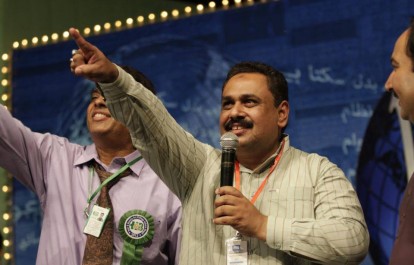 The International Federation of Journalists (IFJ) expresses its serious concerns towards the safety of the senior leader of the IFJ affiliate, the Pakistan Federal Union of Journalists (PFUJ), in Lahore, Pakistan after the Punjab Police decided to withdraw police protection amid new threats to his life.
Rana M. Azeem, the Lahore-based PFUJ president, has received threats to his life from unknown people after Punjab Police withdrew security they were providing him following similar threats in September. The PFUJ believes that the withdrawal of the police protection to Azeem is a result of the protest against the Punjab Police for arresting journalists of ARY TV doing sting operation.
Following the new threats, Azeem said: "Now I hereby announce that the government of Pakistan and Punjab police will be responsible for any mishap with me in future. Because we could not reduce our daily activities to safe guard the rights of the journalists."
Azeem has remained a target for long time. In September, unidentified people fired shots at his home repeatedly with an intention to intimidate him. He was also threatened in January, in connection to his work and activities with the PFUJ for protecting journalist's rights and advocating safety.
The IFJ and the PFUJ urges the government of Pakistan and the Punjab Police to remain vigilant against attacks on journalists, take all threats seriously; and restore the police protection provided to Azeem.
The IFJ Asia Pacific deputy director, Jane Worthington, said: "The threat is yet another attempt to intimidate the senior leadership of PFUJ which has been on the forefront in condemning attacks by both state and non-state parties on journalists and working hard to improve the overall safety situation for journalists."
The IFJ added: "It's concerning that the Punjab Police has decided to withdraw the protection provided to PFUJ senior leader, particularly at the time when he is being threatened. The IFJ calls on the Punjab Police to work with the PFUJ and create a dialogue on the issue of journalist safety and press freedom in the province.
Comments