Press Statement
Press freedom groups demand release of Bangladeshi journalist
11 Aug, 2016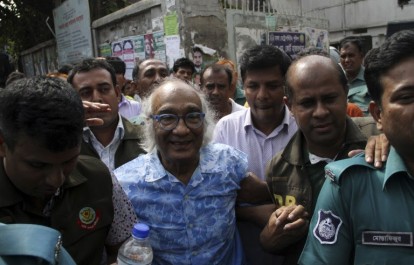 The International Federation of Journalists (IFJ), Reprieve, Index of Censorship, Reporters Without Borders and 21 other international press freedom organisations demand the immediate release of UK-Bangladeshi journalist, Shafik Rehman, who has been in police custody since April 16, 2016.
Rehman, an 81-year-old prominent journalist was arrested on April 16 on allegations of participating in a conspiracy to murder Sajeeb Wazed Joy, the son of Bangladeshi Prime Minister, Sheikh Hasina. Since his arrest, Rehman has been in police custody, where his family has claimed that he was in solitary confinement and denied medical care.
The joint letter that was sent to Bangladeshi Minister for Law, Justice and Parliamentary Affairs, Anisul Huq, called for Shafik's immediate release on the grounds that after more than three months since his arrest, he has been detained without charge and his health is deteriorating.
The letter said: "Mr Rehman was arrested on 16 April 2016 and denied bail by the High Court on 7 June 2016. After more than three months in detention, he has still not been charged with any crime. Under international law, the Bangladesh authorities have a duty to promptly inform Mr Rehman of the nature of the case against him and either charge or release him. The delays in this case suggest that there is no evidence against Mr Rehman, and that he should be released."
Rehman, a veteran journalist and editor, was the long-time editor of Jai Jai Din, a mass-circulation Bengali daily, and, at the time of his arrest, he edited a popular Bengali monthly magazine called Mouchake Dhil. He was also an advisor to opposition leader Khaleda Zia, the prime minister's arch-rival.
Rehman's arrest has come amid government crackdowns on freedom of expression and press freedom in Bangladesh. Rehman is the third pro-opposition editor to be detained since 2013. The government has jailed Mahmudur Rahman, the acting editor of pro-oppositionAmar Desh daily which was shut down after his arrest in April 2013, on slew of charges including sedition and he is also being investigated over a plot to kidnap and murder Joy alongside Shafik.
More recently, earlier this week the Bangladesh Telecommunications and Regulatory Commission (BTRC) ordered the shutdown of 35 websites including pro-opposition Sheersha News and Amar Desh Online, with BTRC claiming they were blocked 'for making objectionable comments about the government'. On August 8, Bangladeshi police arrested three journalists from banglamail24.com following a story addressing rumours that Joy had been killed.
The IFJ said: "The arrest and extended detention of Shafik Rehman raise serious concerns about the state of press freedom in Bangladesh, which continues to decline. The media in Bangladesh is under constant threat, and Shafik Rehman is illustrative of this dire situation. The IFJ joins press freedom groups in demanding the immediate release of Rehman. The IFJ and its affiliates will continue to campaign for Rehman's release and for press freedom in Bangladesh."
Written By

IFJ Asia-Pacific
The IFJ represents more than 600,000 journalists in 140 countries.
For further information contact IFJ Asia-Pacific on +61 2 9333 0946
Find the IFJ on Twitter: @ifjasiapacific
Find the IFJ on Facebook: www.facebook.com/IFJAsiaPacific
Comments