Attacks on Media
Prioritising safety
01 Feb, 2017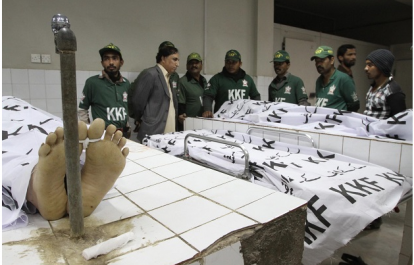 Despite the race for stories, media houses in Pakistan are now putting safety of their staff at a higher footing than ratings, says Lubna Jerar Naqvi.
Terrorism and murder are the main causes for media deaths in Pakistan and five media personnel were killed in 2016. The year began with the murder of Muhammad Umar (Daily Dera News) in Dera Ismail Khan, Khyber Pakhtunkwa – the northwestern province of Pakistan – on January 16, 2016. On August 8, cameramen of two channels – Shehzad Khan (Aaj News) and Mehmood Khan (Dawn News) – were killed in an act of terrorism while covering a story at the Civil Hospital in Peshawar in which more than 75 people were killed.
Considering the dangerous situation in Pakistan, many media houses have issued guidelines and given safety trainings to protect their teams on the field.
"The loss we face by the death of team members – like the loss of the cameraman who was killed in Quetta – is immense," said Amir Ahmed Director News Aaj News. "We (at Aaj News) don't believe in ratings as the safety of our staff is more important."
"All our field teams have been given safety training. However, there are many different kinds of trainings that the media needs in Pakistan," Ahmed said. "We have our own safety protocols…and I think we are the only channel that has standing orders that no team is to rush to the site of terrorism. And if there is an incident of firing, we are not ready to get live coverage at the cost of our team's safety."
Mubasher Zaidi, Head of Input, Editor Investigation Dawn TV said, "Trainings have been given to our Karachi Bureau chief and some reporters. We provide protective vests and other gear to teams working in conflict areas."
"The situation here is very grim but there is no parallel in the world to take foolproof steps to secure the media personnel," said Zaidi. "The desk teams align with the bureau chief who is linked to the field teams – desk does not force our teams to get 'exclusive footage' if it is dangerous. We ask our reporters get the information if it is not possible to get visuals without getting hurt – and we have seen that the race for ratings has also decreased after discussions with editors from all channels."
Apart from safety trainings and guidelines, there has been an emphasis on making it mandatory for media teams in the field to wear the protective gear that is placed in DSNG vans.
"DSNG vans carry protective gear like helmets and bullet proof vests when travelling to conflict areas and our teams have been told to wear them," said Azhar Abbas Managing Director, Geo News. "The SOP is that wherever there are riots or a blast, we have instructed our teams to wear protective gear. We have also instructed them not to go near a blast site until the police has cleared the area in case there is a second blast."
Despite real dangers in the field and despite trainings and guidelines, some media personnel didn't wear the gear. Seeing this, Azhar Abbas changed strategy to ensure his teams were protected. "Some of our team members didn't want to wear this (the gear) because they complained it was heavy or they looked weird….but I had instructed that the team especially reporters and cameramen have to wear the gear and those who didn't would not be shown on screen. And it worked."
Like Azhar Abbas, Amir Ahmed also faced the same issue with team members. Amir believes the reporters and team members had become too comfortable in the field and they don't think they are vulnerable. He added that this didn't mean they disregard the orders but sometimes media people are caught up on the story and at that time nothing else seems to matter to them. "We have to constantly remind them that they need to wear the protective gear." He added.
Zaidi said, "Pakistanis generally have a carefree attitude and when a person becomes a journalist they are trained to get the news in any way they can, but they should be aware of consequences. The desk and bureau chiefs have also been sensitised that these are your teams and you should not put them in danger."
It is hoped that 2017 will be safer for journalists not only in Pakistan, but across the world. And it is hoped that journalist unions can work towards engaging governments to work towards protecting the media and ending impunity for crimes against journalists.
Written By
Comments