Press Statement
Private company guards assault journalists in Afghanistan
14 Jun, 2017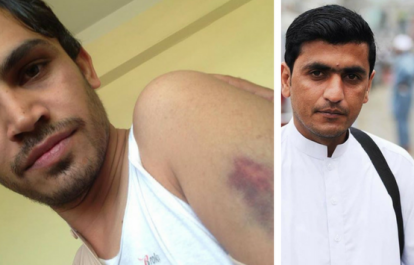 The International Federation of Journalists (IFJ) joins its affiliate the Afghan Independent Journalists Association (AIJA) in condemning the assault on two television journalists in Surkhrud district of Nangrahar province in eastern Afghanistan on June 13. The IFJ demands immediate investigation into the incident and punishment to those responsible.
Security personnel of a private construction company assaulted Ziar Khan Yaad of TOLO News and Sabawoon Sahil of Maiwand TV for their critical reporting about the ongoing road construction. They were also confined in a room for a few hours and harassed. They were released after mediation by AIJA and other media activists. The journalists were reporting  on the delay in construction of the Nangrahar-Kabul road and late payments to the labourers.
The District police claimed that three security guards had been arrested for investigation for violent behaviour with journalists. The office of the Nangrahar governor promised AIJA leadership that they would conduct a fair investigation.
AIJA President Rahimullah Samandar said: "We call on the Nangrahar police and administration to investigate the case seriously and bring those responsible to the justice."

The IFJ said: "The assault and detention of journalists by security guards of a private company to curb critical media contents is highly condemnable; and is only possible when impunity for crimes against journalists is high. The IFJ condemns the assault on journalists in Nangrahar province in Afghanistan, and urges the authorities to immediately punish those responsible for the act."
Photo: (L-R) Ziar Khan Yaad from TOLO TV and Sabawoon Sahil from Maiwand TV who were attacked in the incident. Credit: AIJA
Written By

IFJ Asia-Pacific
The IFJ represents more than 600,000 journalists in 140 countries.
For further information contact IFJ Asia-Pacific on +61 2 9333 0946
Find the IFJ on Twitter: @ifjasiapacific
Find the IFJ on Facebook: www.facebook.com/IFJAsiaPacific
Comments