Press Statement
Prominent Bangladeshi editor arrested
18 Apr, 2016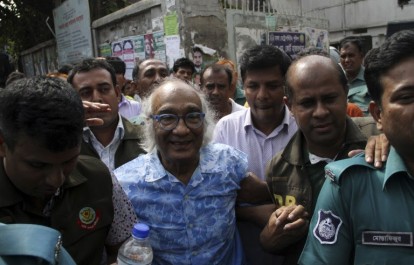 The International Federation of Journalists (IFJ) joins the Bangladesh Manobadhikar Sangbadik Forum (BMSF) in strongly criticising the arrest of a senior journalist in Dhaka, Bangladesh on April 16. The IFJ demands his immediate release and an end to the suppression of press freedom in Bangladesh.
Shafik Rehman, 81, was arrested by plainclothes police officers when they gained access to his house on Saturday morning, allegedly posing as Boishakhi television reporters. Rehman was taken to a Dhaka court where he was placed on a five day remand for sedition charges filed in August 2015. The charges relate to the alleged attempts to abduct and murder Prime Minister Sheikh Hasina's son Sajeeb Wazed Joy, who lives in the US. Rehman applied for bail but the application was rejected by the court.
Rehman is a veteran journalist and editor in Bangladesh. He currently edits the Bangla weekly,Mouchake Dhil, as well as producing and hosting Lal Golap (Red Rose), a program on Bangla Vision TV. He has also been acting as convener of the international affairs sub-committee of the BNP's sixth national council held recently in Dhaka. He is also considered an adviser to the BNP chief.  Prior to his current roles, Rehman was based in the UK, working for various media outlets including the BBC. He also worked as the speech writer Khaleda Zia, the prime minister's arch-rival. In 1984, Rehman founded the weekly, Jai Jai Din. The weekly was known for its critical commentary of former military ruler Hussain Mohammad Ershad, who banned the magazine forcing the journalist into exile. In 1991, with the fall of Ershad, the weekly resumed publication.  It was later turned into a national daily in 2006 and Rehman became the editor until he was allegedly forced to sell its ownership in 2008 during the military-backed caretaker government.
According to the BBC, Rehman is the third pro-opposition editor to be detained in Bangladesh since 2013. The other two editors, including the editor of the English newspaper, the Daily Star, Mahfuz Anam, have faced similar charges. In February, Anam had more than three dozen cases including six sedition pleas and a dozen defamation cases files against him, after he admitted during a televised interview on February 3 to a lapse in editorial judgement in publishing reports based on information supplied by the country's task force intelligence cell during the caretaker government regime almost a decade ago without being able to independently verify them.
The IFJ said: "The IFJ is seriously concerned over the arrest of a senior journalist. The current trend of legal harassment against editors critical of the government raises serious concerns about the state of press freedom in Bangladesh. As we prepare for World Press Freedom Day, we call on the government to end its attack on press freedom."
Written By

IFJ Asia-Pacific
The IFJ represents more than 600,000 journalists in 140 countries.
For further information contact IFJ Asia-Pacific on +61 2 9333 0946
Find the IFJ on Twitter: @ifjasiapacific
Find the IFJ on Facebook: www.facebook.com/IFJAsiaPacific
Comments