Press Statement
Prominent blogger stabbed to death in Maldives
24 Apr, 2017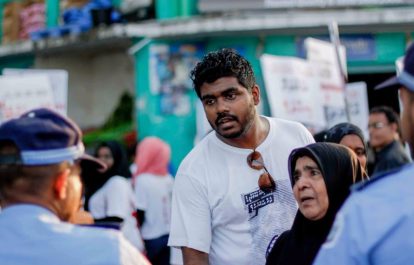 The International Federation of Journalists (IFJ) joins its affiliate the Maldives Journalists Association (MJA) in deploring the brutal killing of blogger and social media activist  Yameen Rasheed in Male' on April 23, 2017. The IFJ demands a major investigation from the authorities into the murder as well as threats made prior to his death.
Rasheed, 29, was a prominent blogger and social media activist advocating for rule of law, human rights and social justice in the Maldives. He was found with multiple stab wounds in the stairway of his apartment building at 3am on Sunday, April 23, and was taken to hospital where he died soon after due to excessive bleeding.
Reports indicate he had 16 stab wounds on his body, including 14 on the chest, one on the neck and one on the head. Yameen's father, Hussain Rasheed, told local television channel Raajje TV that he had been informed that the CCTV cameras in the building had been turned aside so that the crime was not caught on footage. The family suspects that the murder was planned.
Rasheed was an outspoken critic of the government and religious intolerance in the Maldives, popularly known for his satirical English blog, "The Daily Panic". For the past year, he had received death threats from various groups. Rasheed reported the death threats to police and had posted screenshots of warnings he received as text messages on social media. He had also complained on social media about police inaction in responding to his complaints. More recently, Rasheed told friends that the threats were no longer anonymous, which made him uneasy.
A close friend of the disappeared Maldivian journalist Ahmed Rilwan, Rasheed was a relentless campaigner for justice for his journalist friend who has been missing since 2014. His advocacy work on the case was recognized at the 2015 meeting of the South Asia Media Solidarity Network (SAMSN) and had continued to supporting IFJ monitoring from the Maldives.
Former presidents – Maumoon Abdul Gayoom, Mohammad Nasheed and Mohammed Waheed Hassan – all condemned the murder and demanded justice. The Maldivian President's spokesperson, Ibrahim Muaz Ali, condemned 'the brutal inhumane attack on a youth'.
The IFJ general secretary, Anthony Bellanger, said: "For a small island nation, The Maldives is becoming known as a murderous paradise for those fighting for freedom of expression. We are shocked by the brutal murder of blogger and IFJ friend Yameen Rasheed. He was a brave champion of free speech in a country where speaking out has dangerous consequences. The IFJ condemns the murder and police inaction in pursuing death threats to Rasheed prior to his death. Action must be swift and strong and all media must be given the full protection they deserve as they fight to keep the public informed at this critical time in the Maldives."
The IFJ offers condolences to Yameen's family, friends and colleagues.
Written By

IFJ Asia-Pacific
The IFJ represents more than 600,000 journalists in 140 countries.
For further information contact IFJ Asia-Pacific on +61 2 9333 0946
Find the IFJ on Twitter: @ifjasiapacific
Find the IFJ on Facebook: www.facebook.com/IFJAsiaPacific
Comments