Press Statement
Prominent editor Shujaat Bukhari shot dead in Kashmir, India
15 Jun, 2018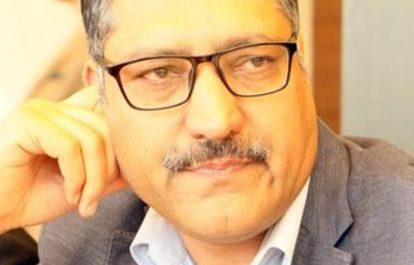 Prominent journalist Shujaat Bukhari, the editor of Rising Kashmir daily, was shot dead outside his newspaper office in Srinagar, India on June 14, 2018 by unidentified gunmen.
The International Federation of Journalists (IFJ) joins its affiliates the Indian Journalists Union (IJU) and the National Union of Journalists, India (NUJI) in strongly deploring the killing of leading newspaper editor Bukhari in Kashmir; and demands urgent action from the authorities to arrest and punish his murderers.
Bukhari was attacked in his car outside his office and received multiple bullets in his head and abdomen. The attackers fled the scene firing multiple indiscreetly at him, his guard and the driver. He was declared brought dead at the hospital. His security guard was also killed in the attack while the driver is receiving treatment.
Bukhari has worked as a journalist for more than 25 years. He established Rising Kashmir daily in March, 2008 after having served The Hindu daily for 15 years. He had survived a couple of murder attempts earlier and was provided police protection since 2010 when he was last attacked. He was also the president of Adbee Markaz Kamraz, the biggest and oldest cultural and literary organisation in the Kashmir Valley.
No group has so far claimed the responsibility for the killing. The last time, a journalist was killed in Kashmir was in 2003 when Parvaz Muhammad Sultan, a reporter, was shot dead by gunmen at his office at the same area.
Bukhari is the third journalist killed in India and the 22nd journalist killed in the Asia Pacific region in 2018. Earlier, Naveen Nishchal and Sandeep Sharma were killed in March within 24 hours.
The IJU President SN Sinha said: "By killing Shujaat Bhukari the militants sought to silence the voice of sanity and reason in the volatile state where the media and the working journalists were under tremendous stress sandwiched between the militants and the security forces. Shujaat Bhukari is a martyr in the cause of freedom of the press and expression. He was a journalist of integrity and stood by the people of Jammu and Kashmir with his fearless and ethical journalism. He paid with his life for truth and acting as the voice of the people of the state. In his death the IJU lost a friend. We extend our condolences to the bereaved family. We assure the journalists fraternity in Jammu and Kashmir that we will stand by them in the hour of their grief."
The NUJI in a statement said: "The security of journalists in the Jammu & Kashmir is a matter of concern.  It is an attempt to stall fearless coverage of anti-national and anti-people activities. NUJ(I) strongly criticize this barbaric act and demand the State governments to nab the culprits at the earliest. We also demand to look into the security of the mediapersons, while covering different events in the state. The NUJ(I) condemned the killing of journalist and termed it as failure of the administration to grant protection to the media persons and demand adequate compensation to the murdered journalist."
IFJ General Secretary Anthony Bellangar said: "The brutal targeted killing of prominent editor Shujaat Bukhari in Kashmir is a horrendous crime; and shows why India, despite being the biggest democracy in the world, is one of the most dangerous countries in the world for journalists. India is yet to make substantial arrest in the 2017 murder of editor Gauri Lankesh, and the impunity in journalist killings is a matter of shame for India's democracy. The IFJ urges urgent action from the authorities to arrest and punish the killers of Bukhari and other journalists; and introduce concrete action to ensure safety and security of journalists under threat."
Written By

IFJ Asia-Pacific
The IFJ represents more than 600,000 journalists in 140 countries.
For further information contact IFJ Asia-Pacific on +61 2 9333 0946
Find the IFJ on Twitter: @ifjasiapacific
Find the IFJ on Facebook: www.facebook.com/IFJAsiaPacific
Comments