Press Statement
Prominent journalist and academic shot dead in Karachi
05 May, 2015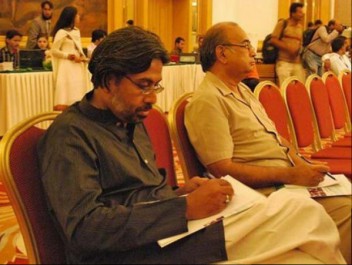 The International Federation of Journalists (IFJ) joins its affiliate, the Pakistan Federal Union of Journalists (PFUJ) in condemning the brutal murder of former journalist and university professor Dr Syed Wahidur Rahman in Karachi on April 29. The IFJ and PFUJ call on the authorities to immediately investigate the incident and bring those responsible to justice.  

Dr Rahman, also known as Yasir Rizvi, was killed when four unidentified assailants on motorbikes opened fire on his car in Federal B area of Karachi. Dr Rahman was shot five times, on his face, neck, chest, abdomen and arm. He was taken to hospital, but died from his injuries. An Assistant Professor with the Mass Communications department of the Karachi University at the time of his death, Dr Rahman previously worked as a journalist for 15 years and was an ex-member of the election committee of the Karachi Press Club.
According to Dawn, it is thought that Dr Rahman's murder was linked to the university's talk on 'Baloch Missing Persons and the Role of Society' scheduled for May 6. The event is the third in a series of talks on the topic on Balochistan's missing persons. On Friday April 24, Sabeen Mahmud was murdered in Karachi after she hosted the second talk on in the series at her café-bookstore, T2F.
The PFUJ condemned the attack and said: "We demand a probe of the motives and culprits behind the murder. Karachi has seen a recent wave of target killing and police and law enforcement agencies are investigating the incidents."
The PFUJ is among those arguing for a strict security mechanism for media in Pakistan but said federal and provincial governments were not meeting expectations. On April 1, the Home Department in Balochistan took a step in the right direction, announcing that it would set up two tribunals to investigation six journalist murders from 2011 to 2013. The aim of the tribunals is to name those responsible and recommend measures to prevent any future murders.
The Pakistan Coalition on Media Safety (PCOMS) has been working with its mandate to implement the United Nations Plan of Action on journalist safety and the issue of impunity since October 2013.
The IFJ said: "In a matter of five days, Karachi has been the deadly site of two assassinations of media and human rights activists connected with Balochistan. These two deaths highlight the grave issues the country's media confronts as it tackles the issue of impunity for crimes against journalists and activists. Pakistan remains the most dangerous country for journalists in the world, with 14 killed in 2014, including five from Sindh province."
Comments