Censorship
Raajje TV: Fines, fundraising and lawsuits
17 Oct, 2017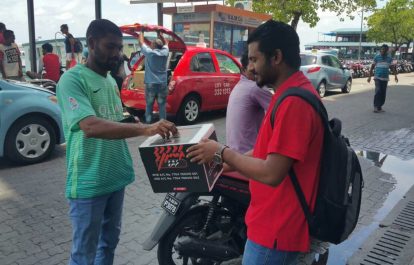 During a daily team meeting one Sunday at Raajje TV, journalists and producers debated on ways to minimise the impact of their third fundraising drive for the year on their work.
The campaigns – the current one launched on October 8 – battle exorbitant fines imposed by the Maldives Broadcasting Commission (MBC) after the introduction of a draconian anti-defamation act.
The fines, and efforts to pay them off, have had a visible impact on the broadcaster's ability to continue with its news reporting.
Staff have taken to the streets with boxes in tow, asking for public support in dealing with what it describes as "targeted action to kill press freedom".
Raajje TV's Chief Operating Officer Hussain Fiyaz Moosa believes the MBC's intention is to distract and deter the station from continuing its coverage of the partisan political scene.
"Of course, it has an impact on the work we do. We have journalists out on the streets during work hours raising funds to pay off these fines. Journalists who should actually be out there trying to find stories and covering critical issues," Fiyaz says as he sits in the middle of the newsroom.
"This is what they [government] want. Distract us from covering the news, from bringing the critical coverage that we bring," he adds.
Although staff morale is high, the effect on their work is noticeable: almost 25 minutes of the one-hour prime-time bulletin at 8 pm is booked with updates on the fundraising drive, complete with live on-the-ground spots from reporters and their boxes.
Mohamed Wisam, a senior journalist who has been arrested while covering protests in the Maldives, understands the peculiarity of a well-known journalist "begging for money" on the streets.
"When you are forced to beg for money, you do it. It is easy because most of the people we meet are very understanding and they want to support us," he said.
"It is being done to shut down Raajje TV or force them to change their broadcasts favourably towards the government," says 26-year-old civil servant Ahmed Hassan. "Channel 13 [a pro-government private broadcaster] is worse in its coverage, they have programmes and even songs that defame and throw baseless accusations at everyone who is against [President] Yameen."
In addition to the latest fundraising drive, Raajje TV has also launched legal action against the MBC including a lawsuit against its president for violating the anti-defamation act with baseless fines.
Raajje TV's plight is supported by most of the Maldivian media community.
Ismail Naseer is the managing editor of local newspaper Mihaaru, which has been covering all the RaajjeGate developments. He told the Maldives Independent that giving it prominence springs from a common understanding that the punitive actions are unfair.
"First, the anti-defamation act is something that we don't accept. It is being implemented to further the personal interests of some people. Journalists are being dragged to the police, journalists and media outlets are being fined in a very unfair manner. With the commission [MBC], we see that it is stacked with (ruling party) PPM activists," he said.
"When we cover these stories, we are not thinking about the number of readers we get or views. Whether no one reads it or a lot of people read these stories, we will keep covering it," he adds.
Accusations of bias against the MBC are not without merit.
In one alleged case of favouritism, a defamation complaint filed by a former home minister saw the state-funded Public Service Media fined MVR200,000. But Channel 13, a pro-government outlet with ties to the first family, was let off after it said a recording for the content broadcast was not available. The MBC gave a warning to Channel 13 for failing to keep recordings of its programmes — despite it airing the same content as PSM.
MBC president Mohamed Shaheeb did not respond to phone calls at the time of press.
Raajje TV's Fiyaz believes the unfair and biased actions by the MBC will continue.
"It is difficult to see any real objective out of this than to get us out of business, to muzzle an independent voice in the broadcasting media."
France-based Reporters Without Borders ranks the Maldives as 117 out of 180 in its annual press freedom index, down from 112 the previous year.
In its report, RSF said the government continued to "persecute the independent media" and that many journalists have been the target of death threats from political parties, criminal gangs and religious extremists.
"I think the problem is that Raajje TV paid the first fine," says 43-year-old Maldivian fisherman Yaugoob Eesa. "The second fine was a million, it's like a game for these people [MBC]. Again Raajje TV paid that fine too. The thing with paying it like this is that they will keep fining until you're bankrupt. This is not feasible. There is no dictatorship in the world where you can have press freedom. That is the direction [Maldives is headed]."
RaajjeGate: A Timeline
In August 2016, the Maldives passed a controversial law that criminalised defamation and restricted freedom of expression. The Maldives Broadcasting Commission has punished opposition-aligned Raajje TV several times under this law, increasing tensions between journalists and the government-backed regulator.
Following is a timeline of actions taken by MBC against Raajje TV this year.
Republished with permission from The Maldives Independent. See the original articles here and here.
Written By
Comments