Attacks on Media
A rainsong for you Gauri Lankesh
07 Sep, 2017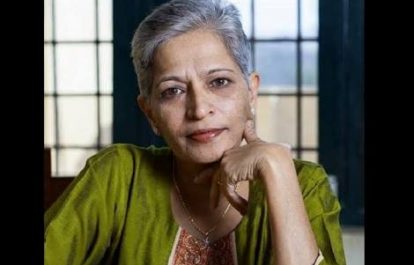 Madhu Bhushan, fellow-Bangalorean and feminist activist recounts her meeting with the fiery and outspoken senior journalist-activist just hours before Gauri Lankesh was shot at point blank range just outside her Bangalore home on September 5 by unknown assailants.
Just trying to sort out in my shaken heart, soul and mind your brutal murder Gauri. Barely a couple of hours after a long and leisured chat we had in your office on life, family, friends, cinema, politics and Gauri Lankesh Patrike.
You had a paper to bring out the next day. But it didn't seem to matter. It was like you did not want to stop talking. Or let Kalpana and me go. You even asked, "Am I boring you??" And we chuckled and said, "when will we ever get to listen to such gossip??" after you had given us some entertaining insights into the way in which the rich and famous live.
"Why can't people see what is staring them in their face?" you asked desperately speaking about the inexorable rise of right wing fundamentalism and fascism across the country. "What is going to happen to Karnataka?" you worried. "Why are progressive forces not able to come together?" you sighed. But you spoke with so much of affection for the younger generation activists like Kanhaiya Kumar, Jignesh Melvani and others who you said were practical and optimistic in their approach to realpolitic unlike your own passionate if disheartened responses.
You spoke of how difficult it was to sustain the legendary legacy of your father Lankesh Patrike "The GST is making our lives miserable" You raged sharing with us some funny stories of conversations you had on demonetisation.
You spoke about how a famous star you admired for making it in the Kannada film industry on her own without any godfather asked you to get married and settle down. "I am already settled" you told her. "You don't need a man to settle down do you?"
As Kalpana said your brown eyes were glittering like jewels as we spoke, laughed, raged, reminisced and reflected. As if time had stood still and we had nowhere to go. And nothing to do.
You have left behind an unfinished conversation Gauri. One of the many perhaps with the many whose lives you have touched in your fiercely wondrous ways. But you have also left behind the fearless legacy inherited from your father that you have enriched with your own brand of an uncompromising, committed and compassionate humanism. One sentence from our conversation continues to reverberate. "You know I am totally committed to non violence."
And yet it was perhaps inevitable that a violent end awaited you. Like Gandhi.
The first salvo has been fired in Karnataka Gauri and you took the bullet.
The heavens wept last night for you. But this morning the sun is struggling through the clouds telling us that "you can not keep a good woman down"
The voices that refuse to be silenced will continue their conversations with you Gauri.
You will continue to inspire and we will continue to hope.
Written By
Comments