Nepal
Reporting through Nepal's crisis
27 May, 2015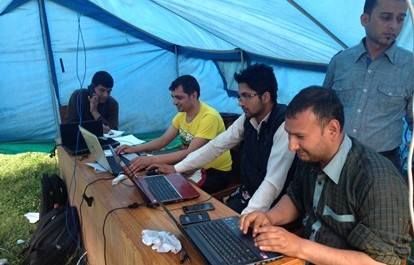 Since the Nepal's devastating earthquake on April 25, the country's journalists have persevered to continue telling the story for Nepal and its people.
"With my home and land now destroyed by the earthquake, my family had turned into squatters. Despite the loss, I did not shirk my responsibilities. For a week after the first quake, I stayed in Kathmandu reporting as usual while trying to forget the problems at home. I was busy following up on how much damage the earthquake had inflicted on our heritage sites, about the crowd of people trying to leave the capital, the army officials who were saving people from destroyed houses and the work done by the Nepal Police, APF and citizens."
The Kathmandu Post journalist Makar Shrestha wrote this personal account of damage by the April 25 7.6 magnitude earthquake and aftershocks and its impact on those around him. Shrestha hails from a village in the Dolakha district east of Kathmandu that was hard hit by the earthquake. Dolakha was the epicenter of many aftershocks, including the 6.8 magnitude earthquake on May 12.
The devastating April 25 earthquake killed more than 8000 people in Nepal, including a journalist and more than a dozen relatives of Nepalese journalists. Hundreds of thousands of homes were damaged, many beyond repair, while survivors continued to deal with psychological impacts amid ongoing aftershocks in the days and weeks after the initial quake.
With the recovery expected to take many years, journalists have a big role of play to ensure recovery works are conducted in order and that aid money is utilized without corruption and to the benefit of those most in need. But before that, Nepal's journalists need to be able to recover from the trauma themselves and to be given  support in terms of dealing with trauma and covering disaster.
The earthquake killed journalist Suman Bomjan of Gorkhapatra Daily. According to the Federation of Nepali Journalists (FNJ), more than two dozen journalists lost their relatives, a dozen journalists were injured and more than 500 journalists lost their homes. The fear of aftershocks that gripped the people of Nepal for days forced almost everyone in the affected areas to spend many nights outside their homes under makeshift tents or open sky.
The FNJ's "Preliminary Assessment of Impact of April 25 Earthquake on Journalists and Media in Nepal" has reported:

Death of journalist: 1

Death of family members of journalists: 24

Injured journalists: 13

Injury to family member of journalists: 12

Media outlets with infrastructure damage: 49

Complete house damage of journalists: 149

Partial house damage of journalists: 524
Immediately after the first earthquake, a few national daily newspapers were unable to publish until they shifted to tent facilities either outside the building or in open spaces within printing press facilities. Kantipur Publications has abandoned its main building, while Kamana Publications building suffered severe damage with its press closed down. Kantipur TV was forced to broadcast from an outdoor van for a number of days and dozens of FM radio stations, especially the community radio stations, have been closed and some continue to broadcast from outside studios. Kathmandu-based Nepaliko Radio has been broadcasting from a car since the quake.
Community radios are still struggling to serve the community by providing the information in the serious condition. According to data by the Association of Community Radio Broadcasters, almost all community radio stations in affected districts have suffered damage of equipment in the earthquake
I am touched by the resilience shown by Nepali journalists. As they continue to do their job, I am aware how traumatized our journalistic colleagues are. Many of them continue to do their job, while having lost their own homes, relatives and friends.
It will take a massive effort from Nepal's journalists and support from others to recover from the devastation. Like Shrestha, journalists are continuing to fulfill their responsibilities in informing the public at this time of need. But they too have the need to keep safe – both physically and mentally. Affected journalists need relief and support to rebuild their houses; but they also need psycho-social support and care having witnessed trauma firsthand while reporting.
But for now, they continue to cover the devastation. When they take a break, have a silent moment; the horrifying experiences will no doubt come to haunt them. When that day comes, the industry must be prepared to assist them.
Ujjwal Acharya, a former Nepali journalist, is the South Asia Coordinator for the IFJ Asia Pacific (@ifjasiapacific). You can also find him on twitter @UjjwalAcharya.
Photo courtesy: 'Make-shift newsrooms after the Earthquake' by Ujjwal Acharya.
Written By
Comments