Press Statement
Restrictive broadcasting bill endorsed by Bangladesh government
17 Oct, 2018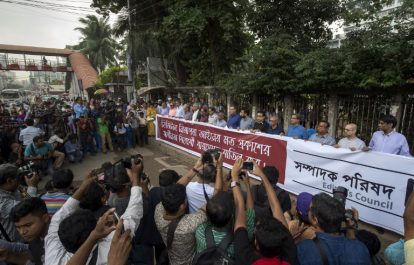 Under the draft legislation, media outlets that publish material deemed to be 'harmful to the country's history and image, public interest or law and order' will be punished with a maximum of seven years' jail and a fine of BDT 50 million (USD 588,000). Under the draft legislation, a broadcasting commission would also be established to help 'regulate the electronic media in keeping with the international practices and standard for ensuring objectivity, neutrality and accountability of mass media'. The broadcasting commission would be responsible for licenses for private media outlets, and under the proposed bill, airing materials that may pose threat to national security and sovereignty or may appear satirical to national ideology will be prohibited.
During the cabinet meeting, the government also approved the draft Mass Media Employees (Services and Conditions) Bill 2018. Under the proposed bill, a wage board for journalists would be established, and under the bill the working hours for media employees will be 36 hours per week instead of 48 hours and earned leave will be 100 days instead of 60 days in every three years. In addition, festival leave will be 10 days in a year, recreation leave will be one month after every three years, and the maternity leave will be six months in place of the existing eight weeks.
The two draft bills come a month after the Bangladeshi Parliament passed the draconian Digital Security Act, which includes several provisions that curtail press freedom and independent journalism in Bangladesh.
The IFJ said: "While we welcome the changes to the working conditions and improved entitlements, the restrictive provisions under the draft Broadcasting Bill will only work to further curtail press freedom and independent journalism in Bangladesh. We urge the Bangladesh Government to hold extensive consultations with the media community to ensure the laws do not impede on press freedom and independent journalism."
Written By

IFJ Asia-Pacific
The IFJ represents more than 600,000 journalists in 140 countries.
For further information contact IFJ Asia-Pacific on +61 2 9333 0946
Find the IFJ on Twitter: @ifjasiapacific
Find the IFJ on Facebook: www.facebook.com/IFJAsiaPacific
Comments