Press Statement
Senior journalist detained in Nepal on corruption allegations
26 Apr, 2016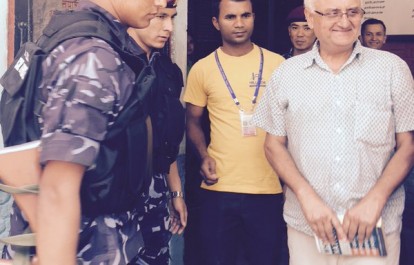 The International Federation of Journalists (IFJ) joins its affiliate the Nepal Press Union (NPU) in strongly condemning the arrest of a senior journalist and publisher corruption charges in Kathmandu on Friday, April 22. The IFJ demands the immediate release of the journalist and an investigation into the charges.
Kanak Mani Dixit, the 61-year-old founding editor of Himal Southasia and publisher of the Himalmagazine, was arrested in Patan Dhoka, in southern Kathmandu, by the Commission for Investigation of Abuse of Authority (CIAA), a constitutional body to probe corruption by public institutions and officials. He was charged with accumulating millions of rupees as the Chairman of Sajha Yatayat, a transport cooperative with majority of shares with the government. Dixit called the arrest a vengeful act after he led the public protests against appointment of Lokman Singh Karki as the CIAA chief commissioner in 2013.
On Friday, Dixit was sent to the local police station and held in police custody where his lawyers were given access to him. On April 23, he was transferred to the Intensive Care Unit (ICU) at Bir Hospital in Kathmandu due to his high blood pressure.
Dixit, also a human right activist and civil society leader, was presented to the Special Court on Sunday, April 24 with CIAA requesting for 30-days judicial custody. The court granted 10-day custody for further investigation.
Dixit started as journalist in 1971 and is a vocal critic on war crimes and victims of Nepal's civil war. In 2005, Dixit was barred from leaving Nepal in his capacity as a journalist to attend a conference in Sri Lanka. Then in 2006, on April 8, Dixit was arrested for defying the curfews imposed by the government. He is a well-respected journalist in national and international communities.
Following his arrest, editors and media figures from India, Nepal, Bangladesh, UK, US, Australia and Sri Lanka, issued a joint statement, calling for his immediate release. The statement said: "Dixit's detention comes at a time of increased pressure on free media across South Asia. We call upon all who believe in the freedom of expression to seek Dixit's immediate release and a fair and transparent trial, free of bias. We call upon the Government of Nepal to issue a transparent and unequivocal statement on his detention for we are deeply concerned about his safety and rights."
The NPU has raised questions on the motives of the CIAA in arresting Dixit and has urged for his immediate release. NPU General Secretary Ajay Babu Shiwakoti said: "The NPU demands Dixit's immediate release and fair investigation process on accusations on him to ensure that CIAA has not abused its own constitutional rights."
The IFJ said: "The arrest of Kanak Mani Dixit raises serious concerns for the statement of freedom of expression in Nepal. The circumstances of Dixit's arrest are questionable, raising questions about proper judicial procedure. The IFJ urges the Government of Nepal to immediately release Dixit and conduct a transparent investigation into the arrest and the CIAA's allegations."
Written By

IFJ Asia-Pacific
The IFJ represents more than 600,000 journalists in 140 countries.
For further information contact IFJ Asia-Pacific on +61 2 9333 0946
Find the IFJ on Twitter: @ifjasiapacific
Find the IFJ on Facebook: www.facebook.com/IFJAsiaPacific
Comments