Press Statement
Senior Pakistani Journalist Hamid Mir Injured in Murder Attempt
23 Apr, 2014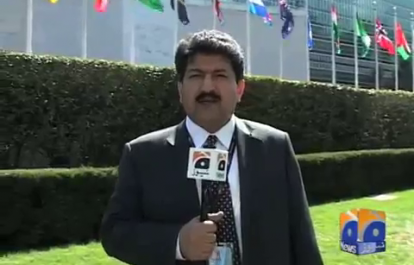 The International Federation of Journalists (IFJ) joins its affiliate the Pakistan Federal Union of Journalists (PFUJ) in strongly condemning the attempted murder of senior Pakistani journalist and renowned anchor of Geo News TV Hamid Mir in Karachi on Saturday April 19.
Mir, 47, was attacked on a busy road as he left Jinnan International Airport on his way to his office. According to reports, he was chased down by a car and two motorcycles and was shot at three times. Mir sustained injuries to the lower part of his body and is receiving treatment at a hospital where he is described to be in a stable condition.
Mir hosts a political talk show on Geo News TV and writes regular columns. He is an esteemed journalist with a long standing as a newspaper reporter and editor. Mir was banned in 2007 and 2008 from appearing on Pakistan television for his criticism toward the governments.
The PFUJ said in a statement: "This is yet another disgraceful attack on freedom of expression in Pakistan. However, such attacks will not deter Pakistan's journalists from pursuing the truth."
The IFJ said: "The murder attempt of such a senior journalist is deeply concerning. The incident proves how difficult it is for journalists in Pakistan to perform their vital duties. Despite repeated calls to the Pakistan government to ensure safety and security for journalists, the situation has only deteriorated."
In the wake of the attack Amir Mir, Hamid's brother, appeared on Geo TV accusing the director of Pakistan's Inter-Services Intelligence (ISI), Lt. Gen. Zahir ul-Islam, and other ISI officials of planning to kill Mr Mir.
An ISI spokesperson called for an immediate inquiry into the attack and added that "raising allegations against ISI or the head of ISI without any basis is highly regrettable and misleading."
The IFJ welcomes the government's move to set up a three-member judicial commission to investigate the attack.
The PFUJ and affiliates in Pakistan held protests on Sunday April 20. IFJ affiliate the National Union of Journalists (India) also condemned the attack.
Murder attempts on senior journalists are becoming tragically routine in Pakistan. Less than a month ago, Express News TV's senior anchor Raza Rumi was attacked in Lahore on March 28. His driver was killed during the attack.
Pakistan remains one of the deadliest countries in the world for journalists with killings and attacks journalists rife since the beginning of 2014. Six journalists have already been murdered in 2014 and death threats and intimidation continue to mar the nation's media landscape as terrorists reign under a climate of impunity.
Written By

IFJ Asia-Pacific
The IFJ represents more than 600,000 journalists in 140 countries.
For further information contact IFJ Asia-Pacific on +61 2 9333 0946
Find the IFJ on Twitter: @ifjasiapacific
Find the IFJ on Facebook: www.facebook.com/IFJAsiaPacific
Comments