Press Statement
South Asia: 100 days of shutdown in Kashmir
13 Nov, 2019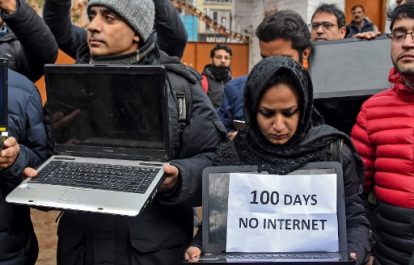 The ban on internet and communication services in Kashmir has now entered 100 days. The International Federation of Journalists (IFJ) and its South Asia affiliates represented by the South Asia Media Solidarity Network (SAMSN) express serious concern over the communications shutdown and demand the immediate removal of the ban.
Following the revocation of Article 370, ending the partial autonomy and statehood of Jammu and Kashmir on August 5, 2019, India's government led by Prime Minister Narendra Modi imposed a communications shutdown along with a curfew in Jammu and Kashmir. Following the revocation, internet and telephone services were cut, while digital censorship and surveillance has increased.
In the absence of internet and broadband services, media cannot  upload news online. Local reporters based in nine districts of the Kashmir Valley have no way to communicate with each other and are forced to travel to the capital, Srinagar, to file stories. According to a journalist in Kashimr, the situation has triggered widespread job and salary cuts, with some of the leading newspapers resorting to salary cuts ranging from 20 to 40 per cent.
During the lockdown, the IFJ has been advised that journalists have faced consistent attacks and harassment. A report by Committee to Protect Journalists (CPJ) reveals that over 920,000 tweets referencing Kashmir have been blocked and Twitter accounts have been withheld. According to Internet Shutdown, an independent internet shutdown tracker, the Kashmir shutdown in 2019 is now this is the second longest internet shutdown to a 133-days shutdown in the region in 2016.
According to the Indian Journalist Union, the lockdown has made it impossible for local media in Kashmir to publish stories about the region. The IJU demands "immediate withdrawal of the communication lock down from Kashmir and restore freedom of media in the valley."
Members of SAMSN said: "We demand that the Indian government remove this grip over the Kashmir media and demand that the right to freedom of expression is restored in the valley. All members of SAMSN stand together in solidarity with the journalists in Kashmir valley."
IFJ said: "The communication shutdown continues to silence independent media and coverage in Kashmir. The shutdown undermines the free flow of information and freedom of expression enshrined by article 19 of Universal Declaration of Human Right and denies the public's right to know. The devastation wrought on Kashmir by this shutdown must end now and communications restored."
Written By

IFJ Asia-Pacific
The IFJ represents more than 600,000 journalists in 140 countries.
For further information contact IFJ Asia-Pacific on +61 2 9333 0946
Find the IFJ on Twitter: @ifjasiapacific
Find the IFJ on Facebook: www.facebook.com/IFJAsiaPacific
Comments