Press Statement
South Asia: IFJ campaign highlights Kashmir's ongoing internet controls
04 Apr, 2020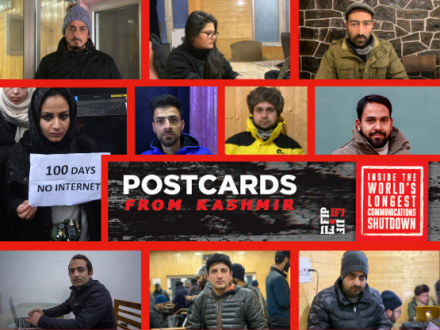 As the world battles the Covid-19 pandemic under widespread lockdowns and the mass movement of work into an online space, the International Federation of Journalists (IFJ) and the South Asia Media Solidarity Network (SAMSN) cast a spotlight on government controls impeding media, freedom of expression and vital communications in Indian-administered Kashmir.
When the Indian government imposed an internet shutdown in Kashmir on August 5, 2019 revoking Article 370 of the Constitution of India, media in Kashmir was rendered virtually dysfunctional by imposing restrictions on physical mobility and communications, including internet and telephone services. Journalists' struggled with their work and lives. The problems they faced were numerous; ranging from not being able to gather information or to write, publish, print or broadcast news, ultimately leading to job losses and salary cuts, in addition to harassment, controls on movement and the necessity to file stories from a designated media centre.
In January, India's Supreme Court ordered the government to review all restrictions in Indian-administered Kashmir within a week, saying the indefinite suspension of people's rights amounted to an abuse of power. While some communications have been gradually restored, the block on high speed mobile 4G internet in Kashmir remains. On April 3, this ban was again extended to April 15.
The outbreak of Covid-19 amid the shutdown is now barring more than seven million people in Kashmir from accessing reliable health information.
The IFJ-SAMSN campaign POSTCARDS FROM KASHMIR draws attention to the personal stories of journalists impacted by the long-running shutdown and raise awareness on internet controls as an abuse of human rights. It also underscores the critical need for high-speed communications during the Covid-19 pandemic.
April 5 marks 245 days – eight months – since the initial shutdown began in Jammu & Kashmir. Even before some communications were restored, the blackout was already the world's longest communication shutdown in a democracy. India continues to lead the world in the number of shutdowns enforced on its people. From April 4-7, this campaign will shine a light on the world's longest and most severe communications shutdown on media and citizens.
"How can a journalist or a writer work if he/she is not able to communicate, talk to sources, talk to the people to know their perspectives? The news gathering process is made impossible due to shutdown", says senior journalist and political commentator Gowhar Geelani. 
"I was unable to work for the first two months of lockdown. During these months, rumors were doing the rounds but there was no way to verify or confirm things. I could not get my salary for two months as well," said Nusrat Sidiq, a Kashmiri journalist in sharing her story of life under the shutdown.
POSTCARDS FROM KASHMIR tells the stories and experiences of journalists and media houses through this dark period. It includes a major analysis by Srinagar-based journalist Moazum Mohammad Moazum Mohammad; and advocacy and solidarity messages to lift restrictions using #JournalismMatters and #KeepItOn.
SAMSN said: "The world needs to know the severe impact on the lives of civilians and journalists as a result of this shutdown. We need solidarity and collective action to end this violation of human rights and journalist rights immediately."
IFJ said: "The IFJ urges the Indian government immediately restore all communications to the Kashmir Valley and ensure that all access is open and without restriction".
"Stay updated with IFJ and SAMSN by subscribing here."
Comments