Press Statement
South Asia: IFJ to launch 19th South Asia Press Freedom Report
03 May, 2021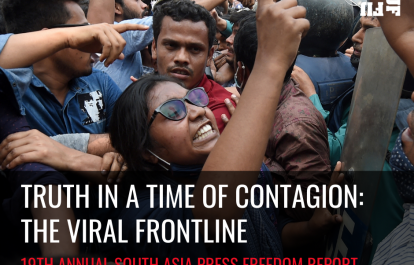 The International Federation of Journalists (IFJ) on behalf of the South Asia Media Solidarity Network (SAMSN) will launch the 19th annual South Asia Press Freedom Report entitled "Truth In a Time of Contagion: The Viral Frontline" at 12:30 pm (New Delhi time) on May 3, 2021, World Press Freedom Day. The launch will be held online.
The report will include analysis on the situation of press freedom in every South Asian country, lists of detained journalists in South Asia, details of media rights violations and an interview with journalists' union leaders in South Asia. The report will be uploaded to the IFJ website and SAMSN website as the launch commences.
The IFJ launch will involve panel discussion with prominent journalists and media personalities on issues such as safety, gender, digital transformation and civic space.
For media inquiries, please contact Umesh Pokharel (southasia@ifj-asia.org).
This report would not have created without the South Asia Media Solidarity Network, including the Afghan Independent Journalists' Association, Bangladesh Manobadhikar Sangbadik Forum, Federation of Nepali Journalists, Free Media Movement Sri Lanka, Indian Journalists' Union, Journalists Association of Bhutan, Maldives Journalists' Association, National Union of Journalists (India), National Union of Journalists (Nepal), Nepal Press Union, Pakistan Federal Union of Journalists and the Sri Lanka Working Journalists' Association.
Written By

IFJ Asia-Pacific
The IFJ represents more than 600,000 journalists in 140 countries.
For further information contact IFJ Asia-Pacific on +61 2 9333 0946
Find the IFJ on Twitter: @ifjasiapacific
Find the IFJ on Facebook: www.facebook.com/IFJAsiaPacific
Comments