Resources
South Asia Media Solidarity Bulletin: January 2018
22 Jan, 2018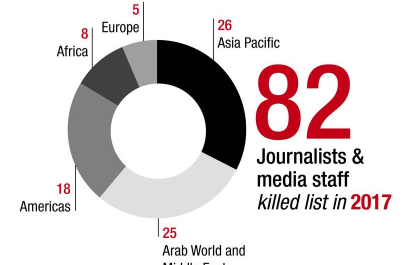 Wish you all a Happy New Year! Welcome to the monthly e-bulletin of the South Asia Media Solidarity Network (SAMSN). The next bulletin will be sent on February 15, 2018, and your inputs are most welcome.
We encourage contributions to let others know your activities; to seek solidarity and support from SAMSN members for your campaigns and initiatives. To contribute, email Ujjwal Acharya at: [email protected]
Please feel free to distribute this bulletin widely among colleagues in the media. This e-bulletin and South Asia related contents are available at the SAMSN Digital Hub: https://samsn.ifj.org
In this bulletin:
IFJ welcomes lowest number of killings of journalists for a decade but warns "no room for complacency"
Afghan journalist killed, 9 injured in Kabul suicide attack
Pakistani journalist escapes abduction attempt
Nepali police ask journalists to reveal source
Journalist investigating illegal sand-mining attacked in Nepal
Bangladesh editor faces death threats
Police complaint filed over investigative report in India
Five journalists face defamation charges in the Maldives
Arrest of a journalist highlights plight of India's freelancers (Catch News)
Bangladeshi blogger Asad Noor arrested for 'defaming' Islam (IFEX)
Supreme Court Upholds Journalists' Freedom of Expression (The Wire, India)
Internet shutdowns become chronic (The Hoot, India)
Reporting in Kashmir: No woman's land (Newslaundry, India)
A cry for justice nine years after Lasantha's murder (

Sunday

 Leader, Sri Lanka)
Indian media wants Dalit news but not Dalit reporters (Al Jazeera)
Nepali Media facing Alarmingly Hostile Atmosphere (Freedom Forum)
Journo Deaths & Arrests in 2017: How Free Is Indian Press, Really? (The Quint)
A Look Back at the Year Where Press Freedom in India Remained More Under Pressure Than Ever (The Wire)
From Internet Blackouts to Violent Attacks, South Asia Saw New Threats to Free Expression Online in 2017 (Global Voices)
Network of Women in Media, India (NWMI) pledges to challenge insecurity and vulnerability in the media
NUJ (India) former president Dr NK Trikha passes away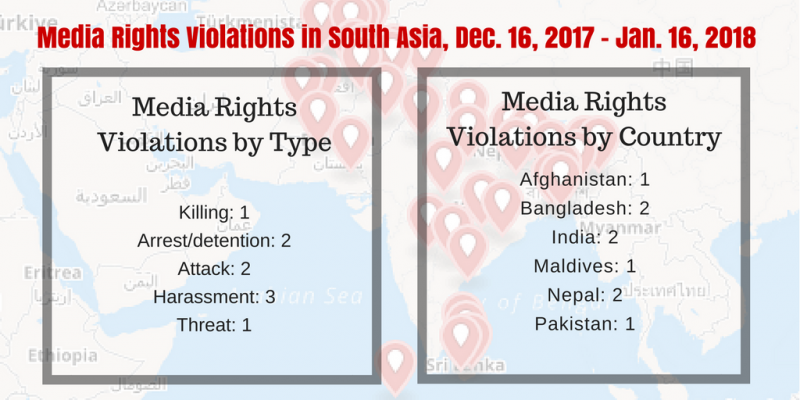 1. IFJ welcomes lowest number of killings of journalists for a decade but warns "no room for complacency"
The IFJ on December 31, 2017 warned that there was no room for complacency despite recording the lowest number of killings of journalists since 2007. The IFJ welcomed the fall from last year's tally of 93 to 81 in 2017 but cautioned that unprecedented numbers of journalists were jailed, forced to flee, that self-censorship was widespread and that impunity for the killings, harassment, attacks and threats against independent journalism was running at epidemic levels.
The IFJ's Killed List details the 81 journalists and media staff killed in targeted killings, car bomb attacks and cross fire incidents around the world during 2017. The number is 12 down from last year's death tally of 93, making 2017 among the least deadly in a decade. The Asia Pacific has the highest killing tally with 26, followed by the Arab World and Middle East on 24 killings, The Americas with 17, African still at eight and Europe with five killings. Read more here and download the IFJ Killed List 2017 here.
2. Afghan journalist killed, 9 injured in Kabul suicide attack
Said Mehdi Hosaini, a journalist working for Afghan Voice News Agency, was killed in the suicide bomb attack which took place at the Tebyan Culture Center building in Kabul, capital of Afghanistan, where the news agency is based, on December 28, 2017. The attacker targeted a students' meeting which had been organised to mark the 38th anniversary of the Soviet invasion of Afghanistan. The first blast was followed by two other blasts that targeted security officials and journalists gathering outside the building.
Nine other journalists and media staff, including some working for Shamshad TV, were injured in the attacks. The suicide attack killed 40 people and injured 80 others. The so-called Islamic State of Iraq and the Levant (ISIS) claimed responsibility for it. Read more here.
3. Pakistani journalist escapes abduction attempt
Taha Siddiqui, the Pakistan bureau chief of India-based World Is One News (WION) television news network and a regular contributor to international media including the New York Times and France 24, escaped an abduction attempt on January 10 in Islamabad, Pakistan. He was intercepted by around a dozen gunmen while he was in a taxi on the expressway to the airport. The gunmen pulled him out of the taxi, threatened to kill him and beat him up before pushing him into a vehicle. He managed to escape by jumping out of the moving vehicle, crossed the expressway and hailed a taxi. He stopped at a police station seeking refuge. Read more here.
4. Nepali police ask journalists to reveal source
A ruling of Patan High Court in Nepal backed attempts by police to force editors of online media to reveal their sources. On November 21, the Crime Division of the Metropolitan Police Office in Kathmandu wrote to several online media platforms asking them to disclose the source of the secret appraisal reports of top police officials, following a controversy on the appointment of the Inspector General of Police (IGP).
The online media agencies filed a complaint against the police's request claiming that it infringed press freedom. But the Court ruled that the police action didn't violate freedom of the press. On December 7, 2017 the police wrote a second letter to three online media platforms. The police is investigating the unlawful access to the files and the alleged tempering with the secret appraisal reports. Read more here.
5. Journalist investigating illegal sand-mining attacked in Nepal
A group of five assailants attacked Kaini, a correspondent of Kantipur and The Kathmandu Postdailies at Abu Khaireni on January 15 while he was reporting on the illegal sand extraction in the Marsyangdi river that endangered local settlements. The assailants manhandled the reporter, snatched away his camera and cellphone, and deleted photos threatening him not to reveal the incident. Kaini sustained a neck injury and was rescued by local residents. The police is investigating the case and has arrested five of the attackers. Read more here.
6. Bangladesh editor faces death threats
Shyamal Dutta, the editor of Bengali language daily Bhorer Kagoj, is facing threats of violence from religious fundamentalists who have publicly called for his hanging over a news report on a book published by the state-owned Madrassah Education Board. On December 23, a demonstration in front of the Press Club in Dhaka demanded punishment for Dutta and the reporter concerned. Defamation cases have also been filed against the editor and an arrest warrant was issued. Dutta was also subject to threats and derogatory comments on social media. Read more here.
7. Police complaint filed over investigative report in India
The Unique Identification Authority of India (UIDAI) filed a police complaint on January 7 against The Tribune daily and its reporter Rachna Khaira over an investigative story. The case was lodged by a deputy director of the UIDAI with the Delhi Police Crime Branch cyber cell naming Khaira as well as sources quoted in the news published on January 3 exposing the breach of the database of the national identity card Aadhar containing personal information of citizens, for a fee. In the complaint, the UIDAI has accused the newspaper and media of cheating by impersonation, forgery, using forged documents and IT-related offenses. This is the fourth time that the UIDAI, the world's largest biometric database, has filed a police case against critical reports exposing its weaknesses in data protection. Read more here.
8. Five journalists face defamation charges in the Maldives
Islamic preacher Sheikh Nasrullah Musthafa lodged a defamation case against five journalists of Mihaaru daily and the media group VMedia over news reports. The stories referred to the preacher's arrest for illegally sending four individuals on Hajj pilgrimage to Saudi Arabia in November 2017.
The court ordered the preacher's release a day after his arrest, but charged him for sending four people to pilgrimage without permission or proper arrangements. The 5 reporters from Mihaaruand VMedia were summoned to court for a dispute resolution hearing on defamation charges. Read more here.
9. Detention of independent journalist highlights the plight of India's freelancers
On December 26, Priyanka Borpujari, an independent journalist, responded to news of slum demolitions and eviction of slum dwellers near her residence in Mumbai's Santa Cruz locality. Borpujari rushed to the spot, recording the unfolding events on her phone. Her actions were consistent with basic journalist protocol. However, what should have been a regular news gathering exercise, quickly took a turn for the worse. Read more.
10. Bangladeshi blogger Asad Noor arrested for 'defaming' Islam (IFEX)
Blogger Asaduzzaman Noor (more commonly known as Asad Noor) was arrested on December 26, 2017 at Hazrat Shahjalal International Airport in Dhaka as he was about to leave the country on a flight to Kathmandu, Nepal. The head of an Islamic seminary had initiated a criminal action against Noor, accusing him of creating content on social media that "hurt religious feeling by mocking Prophet Mohammed" and making negative comments toward Islam. Police charged Noor on January 11, 2017 with defamation of religion under the 2013 Information and Communication Technology (ICT) Act, and Noor has been in hiding in both Bangladesh and India since. If convicted under the ICT Act, Noor faces between seven and fourteen years imprisonment. Read more.
11. Supreme Court upholds journalists' freedom of expression (The Wire, India)
The Supreme Court of India on January 9 batted for the freedom of expression of journalists and said that some instance of "wrong reporting" should not be held on to forever. The court refused to revive a defamation case against senior journalist Rajdeep Sardesai and Raghav Bahl – founder and former managing director of Network18 – and dismissed an appeal filed by Rahmat Fatima Amanullah – daughter of former Bihar minister Parveen Amanullah – against a Patna High Court order. A bench of Chief Justice Dipak Misra and Justices A.M. Khanwilkar and D.Y. Chandrachud said: "You must allow freedom of expression by journalists. There may be some wrong reporting. But don't hold on to it forever." Read more.
12. Internet shutdowns become chronic (The Hoot, India)
India is becoming increasingly notorious for internet shutdowns. There was not a single month in 2017 when an internet shutdown was not in force in some part of the country. The year 2016 recorded 31 shutdowns.For 2017 the figure was 77. Read more.
13. Reporting in Kashmir: No woman's land (Newslaundry, India)
As the number of publications increases in the Jammu and Kashmir of India, it is worth noting that most stories are written, edited and published by men, while women are reduced to a wailing image and mentioned with reference to the men in their lives – as wife, mother, sister or daughter. The irony is that in Kashmir, more women than men graduate after studying media courses. Yet, more men dominate the profession. Read more.
14. A cry for justice nine years after Lasantha's murder (Sunday Leader, Sri Lanka)
January 8th marks nine years since the murder of the founding Editor of The Sunday LeaderLasantha Wickremetunga. Speaking at an event last month, Prime Minister Ranil Wickremesinghe said the media never questioned him on the murder of Lasantha Wickremetunga. Family and friends of Lasantha Wickremetunga will gather at his graveside, as they have since the day he died, to pray for his soul and call for justice. Read more.
15. Indian media wants Dalit news but not Dalit reporters (Al Jazeera)
Of the 190 Indians who joined Asian College of Journalism last June, the management could identify only six Dalits and one Adivasi. The rest – irrespective of their religion, the languages they spoke or whether they ate beef – were Savarnas, the so-called 'twice-born' upper castes. As was the case every year, the largest group was Bengali Savarnas, followed by Hindi Savarnas, followed by Malayalee Savarnas. And like every year, of these "touchables", a majority were Brahmins. Read more.
16. Nepali media facing alarmingly hostile atmosphere (Freedom Forum)
According to the Freedom Forum Nepal's annual report featuring major incidents of press freedom violations, media policy updates and monitoring result of Nepali media contents, Nepali media faced alarmingly hostile atmosphere in 2017. The report recorded a total of 66 press freedom violations, a sharp rise compared to 2016 when only 25 incidents were recorded. Read more (PDF).
17. Journo deaths & arrests in 2017: How free is Indian press, really? (The Quint)
As the year 2017 bids adieu, India finds itself in a shameful position with this year's tally of 12 journalists either murdered or killed in suspicious situations. The largest democracy in the world thus emerges as one of the most hazardous places for media persons after Mexico, Syria, Iraq, Afghanistan, Pakistan, Yemen, Somalia, etc. India's troubled neighbour, Pakistan, lost seven professional journalists and a media student to assailants in the year in comparison. Its other neighbours, namely Bangladesh, Myanmar and the Maldives, witnessed the murder of one scribe each in the last 12 months. And tiny neighbours like Sri Lanka, Bhutan, and Nepal evaded journalist-killing incidents during this period altogether. Read more.
18. A look back at the wear where press freedom in India remained more under pressure than ever (The Wire)
If ever there was a worst year for press freedom in India, 2017 would be it. The Committee to Protect Journalists (CPJ) recorded over 20 instances of journalists being threatened, sacked, physically attacked, censored and killed in the line of duty, by violent mobs, police, paramilitary forces simply because they were doing their jobs. Additionally, powerful corporates slapped criminal defamation cases against media organisations, who exposed conflicts of interest and potential wrongdoings. The Wire has been at the receiving end of two of those legal cases – one of them filed by Rajeev Chandrashekhar, a Member of Parliament and, ironically, the owner of Republic TV, a news channel. A striking feature of the threats this year has been the wide range of their sources and the brazenness with which they've been carried out. In September this year, journalists received messages on WhatsApp that threatened to "finish off" anyone who wrote against the Bharatiya Janata Party (BJP) and added that Gauri Lankesh was killed because she was "anti-Hindu". Read more.
19. From internet blackouts to violent attacks, South Asia saw new threats to free expression online in 2017 (Global Voices)
In 2017, South Asian countries faced growing challenges in the field of internet freedom, censorship, and freedom of expression. The Global Voices South Asia team highlighted many of these issues throughout the year including internet shutdowns, censorship, violent threats against bloggers and media workers. Read more.
20. Women in media pledge to challenge insecurity and vulnerability in the media
The Network of Women in Media, India (NWMI), a collective of media women that concluded its 13th national meeting in Chennai on January 6, expresses its deep concern at the widespread insecurity and vulnerability in the media profession in these times of growing intolerance, when freedom of expression and spaces for dissent are under siege. NWMI members noted that recent acts of outright violence against journalists in 2017 serve as evidence of how unsafe the profession has become. Compounding the problem of online and offline harassment and abuse that journalists, particularly women, have faced over the past few years – whereby they are either silenced or are forced to censor themselves – are the large-scale layoffs in media houses in recent times, and especially in 2017. Read more.
21. NUJ (India) former president Dr NK Trikha passes away
Veteran journalist and former President of the National Union of Journalists (India) Dr Nanda Kishore Trikha, 82, passed away on January 15 at the All India Institute of Medical Sciences (AIIMS), New Delhi. Dr Trikha also served as the general secretary of NUJ(I) and began his career in 1950s with Hindustan Samachar news agency. He was also the Resident Editor of Navbharat Times and former member of Press Council of India. The IFJ and the SAMSN express our deep condolences to his family, colleagues and all members of the NUJ(I).
***
SAMSN is a group of journalists' trade unions, press freedom organizations and journalists in South Asia that works together to support freedom of expression and association in the region.
For further information on SAMSN, visit: https://samsn.ifj.org/us/
If you have information on a press freedom violation or matters relating to media freedom and journalists' rights in South Asia, contact staff at IFJ Asia-Pacific so that action can be taken. To contribute to this bulletin, email [email protected]
Written By

IFJ Asia-Pacific
The IFJ represents more than 600,000 journalists in 140 countries.
For further information contact IFJ Asia-Pacific on +61 2 9333 0946
Find the IFJ on Twitter: @ifjasiapacific
Find the IFJ on Facebook: www.facebook.com/IFJAsiaPacific
Comments