Resources
South Asia Media Solidarity Bulletin: May, 2016
17 May, 2016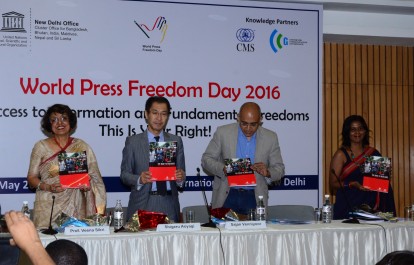 Welcome to the monthly e-bulletin of the South Asia Media Solidarity Network (SAMSN). The next bulletin will be sent on June 15, 2016, and your inputs are most welcome.
We encourage contributions to let others know your activities; to seek solidarity and support from SAMSN members on your campaigns and activities. To contribute, email Ujjwal Acharya at:[email protected]
Please feel free to distribute this bulletin widely among colleagues in the media. This e-bulletin and South Asia related contents are available at the SAMSN Digital Hub: https://samsn.ifj.org
In this bulletin:
The Road to Resilience report released, highlighting the challenges for South Asia's media
India: Two journalists killed in less than 24 hours
SAMSN celebrate #WPFD2016

Changes to Sri Lankan media needed: FMM
BMSF holds round-table meeting in Bangladesh
Delhi Union of Journalists passes WPFD resolution
Journalists in Pakistan facing lots of problems: PFUJ

Head of TOLO TV awarded medal on #WPFD
A deadly month in South Asia
Senior journalist detained in Nepal on corruption allegations
Prominent Bangladeshi editor arrested
Pakistani journalists harassed and arrested in Sindh
SAMSN Blogs

Woman Journalist Attacked by Interviewee, by Tanushree Gangopadhyay
Press freedom in Pakistan, by Iqbal Khattak
Where Bangladesh is heading?, by Sam Jahan

Press Freedom Weakened Around the World in 2015 (Freedom House)
2016 World Press Freedom Index (RSF)
Attacks on the Press: Gender and Media Freedom Worldwide (CPJ)
Is free expression on internet shrinking in Nepal? (Republica)
Zeenat Shahzadi: Fears for missing Pakistan reporter (BBC)
Journalists will not be charged over president's office protest (Maldives Independent)
Bangladeshi bloggers: What we want the world to know (CNN)
1. The Road to Resilience report released highlighting the challenges for South Asia's media
The IFJ and the SAMSN marked World Press Freedom Day by releasing The Road to Resilience: Press Freedom in South Asia 2015-16. "Despite the dangers, the journalists in South Asia are not only focused on presenting the true story to the public, but also are also working equally hard to ensure people's right to freedom of expression and press freedom. The journalists are taking their battles to the courts, streets and online space for advocacy and building unity and solidarity for campaigning on common causes."
The 14th annual report documents the press freedom situation, national and regional activities to empower journalists and capsule reports on important issues of South Asia over the past year.  Thirty-one journalists, bloggers and media workers were killed in the period under review (May, 2015 to April, 2016) with India emerging as one of the most dangerous countries for journalists. Afghanistan and Pakistan continued to remain dangerous places for journalists but the most concerning series of events were recorded in Bangladesh.
This year's press freedom report has built on the findings from the 2015 report, commissioning capsule reports on Bangladeshi bloggers, Chhattisgarh in India, Kabul and Kunduz in Afghanistan along with country-wise press freedom situation analysis for all eight South Asian nations, chapters on impunity, gender and media, and an annexure of list of incidents of major press freedom violations. Read the statement here and download the report here.
2. India: two journalists killed in less than 24 hours
The IFJ has condemned the murder of two journalists in India in less than 24 hours and called for urgent action by the Indian government to ensure justice for them and guarantee the safety and security of the country's media. Journalists Rajdeo Ranjan, Bureau Chief of Dainik Hindustan at Siwan, Bihar and Akhilesh Pratap Singh at Dewari village in Chatra district of Jharkhand were gunned down just hours apart.
Indradev Yadav, also known as Akhilesh Pratap Yadav, was shot dead by unidentified people near his home while he was on his motorcycle. Yadav, 35, was local correspondent for Taaza TV, a Hindi news channel based in Kolkata. The assailants fired at least five shots at Yadav, two of which hit him killing him immediately.
Rajdeo Ranjan was shot dead on point blank range near the Siwan railway station while returning home from work. Assailants on a motorcycle fired at him and fled the scene. Ranjan, who has worked as a journalist for more than two decades, died on the scene. Ranjan was also attacked in 2005. The National Union of Journalists (India) organized a demonstration on front of the residence of the federal home minister in New Delhi to protest the murders on May 14.
Read the IFJ statement here; Indian Journalists Union's statement here and NUJI statementshere (Hindi) and here (Hindi).
3. SAMSN celebrate #WPFD2016
a. Changes to Sri Lankan media must happen under independent commission: FMM
The Free Media Movement (FMM) held a panel discussion on May 4 to celebrate World Press Freedom Day. The panel discussed the importance of executing necessary activities and establishing structures required in the media field under an independent media commission. The FMM believe that any action or change that will take place in the Sri Lankan Media field need to be decided and implemented through an independent media commission. The FMM emphasize the need of an Independent Media Regulatory Commission and requested the Government to take necessary steps to establish such a commission for the betterment of the profession. More here.
b. BMSF holds round-table meeting in Bangladesh
The Bangladesh Manobadhikar Sambadik Forum (BMSF) organized a roundtable on World Press Freedom Day 2016 at National Press Club, Dhaka, Bangladesh. The participants of the meeting discuss on access to information and fundamental freedoms. More here.
c. Delhi Union of Journalists passes WPFD resolution
The Delhi Union of Journalists (DUJ) used  World Press Freedom Day 2016 to release its resolution that resolves a) to uphold and defend our right to write, blog, broadcast, podcast, tweet, photograph, speak and communicate freely and fearlessly through every medium available; b) to use our professional skills and abilities to foster free speech and deepen democracy; c) to report and comment objectively and sensitively, mindful of the influence and outreach of the media; d) condemn the misuse of the media by various vested interests and e) express our solidarity with journalists in other South Asian countries who are also vulnerable to pressures from governments, various armed groups and vigilantes. More here.
d. Journalists in Pakistan facing lots of problems: PFUJ
The PFUJ affiliates organized a series of seminars across the country on WPFD. The central seminar was held in Lahore where Lahore-based leader Rana M. Azeem led a seminar jointly held by PFUJ, PUJ and the Lahore Press club. It was attended by the renowned and senior anchors, journalists from print and electronic media, politician and students from different Universities. More here
4. Head of TOLO TV awarded medal on #WPFD
To mark World Press Freedom Day, the mayor of Paris, Anne Hidalgo, awarded City of Paris medals to four journalists. Lotfullah Najafizadeh, the head of Kabul-based Tolo TV, which was the target of a Taliban suicide, attack in January 2016, a few months after the Taliban declared it to be a "military target." With 100 employees, Tolo TV is one of the few reliable sources of news and information in Afghanistan, was one of the four journalists awarded.
The mayor presented the medals at an evening event entitled Les Combats du Journalisme (Journalism's Front Lines) that RSF organized at the Théâtre du Rond-Point in Paris to pay tribute to "information heroes." Read here.
5. A deadly month in South Asia
India: Pooja Tiwari, 28-year-old journalist working for DNA's local online news portal, died after falling from fifth floor of her apartment on May 1 in Faridabad, Haryana. At the time of her death; her partner Harayana Police Inspector Amit Kumar and her friend Amreen Khan were with her in the apartment. Initially the death was ruled as a suicide; however, several media reports raised suspicions about the incident, forcing police to investigate the case. Kumar has since been arrested and on Saturday, May 7, was placed on suspension from the police force. Tiwari had conducted a sting operation against some local doctors and filed a story for her website alleging that they were involved in abortions. After the publication of the story, the doctors filed a First Information Record (FIR) alleging that Tiwari was blackmailing them. She was suspended from her job as 'standard operating process for the company'.
Pakistan: Khurram Zaki, 40, was gunned down in a restaurant in Karachi on May 7 by four unidentified gunmen riding motorcycles on Saturday evening. Zaki's friend, who he was having dinner with and an innocent bystander were also injured in the attack. Zaki was an editor of the website Let Us Build Pakistan, which promotes "a progressive, inclusive and democratic Pakistan." In his previous role, he was a former head of current affairs for News One TV and was responsible for infotainment and religious programming. Zaki was a strong campaigner on social media, particularly known for campaigning against sectarian violence and fundamentalist groups inciting violence online.
Bangladesh: Zulhaz Mannan, the editor of Bangla-language LBGTI magazine Roopbaan, a local staffer of USAID and the cousin of former foreign minister Dr Dipu Moni, was hacked to death along with a friend, Tanay Fahim, at his residence in Dhaka's Kalabagan area on Monday, April 25. Mannan and Fahim were both well-known LGBTI activists in Bangladesh. Mannan had received a number of threats online from radical Islamists in the lead up to the third annual Rainbow Rally, which was to be held on April 14, Bengali new year. However, the rally was banned by police as part of widespread security measures.
Read more here,  here and here.
6. Senior journalist detained in Nepal on corruption allegations
Kanak Mani Dixit, the 61-year-old founding editor of Himal Southasia and publisher of the Himal magazine, was arrested in Patan Dhoka, in southern Kathmandu, on April 22 by the Commission for Investigation of Abuse of Authority (CIAA), a constitutional body to probe corruption by public institutions and officials. He was charged with accumulating millions of rupees as the Chairman of Sajha Yatayat, a transport cooperative with majority of shares with the government.
Dixit called the arrest a vengeful act after he led the public protests against appointment of Lokman Singh Karki as the CIAA chief commissioner in 2013. Dixit, also a human right activist and civil society leader, was presented to the Special Court on Sunday, April 24 with CIAA requesting for 30-days judicial custody. The court granted 10-day custody for further investigation. Dixit was later released by the Supreme Court. More here.
7. Prominent Bangladeshi editor arrested
Shafik Rehman, 81, was arrested by plainclothes police officers when they gained access to his house on April 16 allegedly posing as Boishakhi television reporters. Rehman was taken to a Dhaka court where he was placed on remand for sedition charges filed in August 2015. The charges relate to the alleged attempts to abduct and murder Prime Minister Sheikh Hasina's son Sajeeb Wazed Joy, who lives in the US. Rehman applied for bail but the application was rejected by the court. Rehman is a veteran journalist and editor in Bangladesh. He currently edits the Bangla weekly, Mouchake Dhil, as well as producing and hosting Lal Golap (Red Rose), a program on Bangla Vision TV. Meanwhile, a Dhaka court on May 9 sent Daily Amar Desh acting editor Mahmudur Rahman to jail after completion of his remand for the second time in a case filed over an alleged plot to kill Joy. More here.
8. Pakistani journalists harassed and arrested in Sindh
On April 29, Iqrarul Hasan, the host of popular program Sar e-Aam on ARY TV and his colleague, Kamran Farooqui were arrested on orders of the Sindh Home Minister, Sohail Anwar Siyal, after they entered the Sindh Assembly with a pistol and presented it to the speaker, highlighting poor security. Hassan was released after 24 hours in custody, but Farooqui was held in judicial custody until May 4 when he was released on bail. The charges against the two journalists include the possession of illegal arms and fraud.
In a separate incident in Lahore, police registered a case against 92 News TV's Qaisar Khan, after he aired a program to expose the non-action of police in Okara. Khan's team raised the non-action of police in Okara's sub-urban area where the locals have complained of dacoits in his program 'Andheri Nagri'. Following his arrest, PFUJ staged a protest outside the Punjab Assembly in support of Khan.
Read more here.
9. SAMSN Blogs
a. Female Journalist Attacked by Interviewee, by Tanushree Gangopadhyay
Violence has become pervasive in India during the past few years. Several cases of violence, rape and gang rape have filled up media pages. Media persons too have been targeted violently, most often vindictively. Recently a senior media woman Revati Laul, was attacked by the criminal she went to interview in Ahmedabad. The gutsy journalist is writing a book on the convicts of the 2002 mass carnage in Gujarat state. Read here.
b. Press freedom in Pakistan, by Iqbal Khattak
Independent journalism in Pakistan is possible if a political corruption story is dug out. Articles and talk shows discussing political squabbles do not land journalists in troubled waters. However, reporting on the Taliban and other militant groups, the law enforcement authorities, Fata, Balochistan, foreign policy and religion, can land you in hot waters. Critical articles, fishing in troubled waters, are carried by English-language dailies, weeklies and monthlies. However, they are often not reproduced in sister publications in Urdu-language dailies, weeklies and monthlies so as to steer clear of any attacks, intimidation, harassment, likely abduction or kidnapping. Readhere.
c. Where Bangladesh is heading? by Sam Jahan
Bangladesh is probably passing through one of its most fragile hours since its inception by walking in a pitch-black tunnel with no ray of light to be seen on either side. After a brief period of continuous assassinations of foreigners, progressive bloggers, writers and publishers followed by attacks on religious minorities last year, 2016 was expected to be a promising fresh start in term of safety for the people of the South-Asian country. Read here.
10. Press Freedom Weakened Around the World in 2015 (Freedom House)
Press freedom suffered throughout the world in 2015, declining to its weakest level in 12 years because of attacks and intimidation by political, criminal and militant forces that sought to mute or control the news media, according to the annual report of Freedom House. The report supports statistical and anecdotal evidence showing that assaults on members of the news media are spreading beyond chronically dangerous areas for journalists like parts of the Middle East, North Africa, South Asia and Latin America.
The report states that only 13% of world's population enjoys a Free Press; 41% has partly free press & 46% live in 'not free' media system. According to it, media in Afghanistan, Bangladesh, and Pakistan & Sri Lanka are not free & it's partly free in Bhutan, India, Maldives & Nepal. Find the report here.
11. 2016 World Press Freedom Index (RSF)
The 2016 edition of the World Press Freedom Index, which Reporters Without Borders (RSF) published on 20 April, 2016, shows that there has been a deep and disturbing decline in respect for media freedom at both the global and regional levels. Published annually by RSF since 2002, the World Press Freedom Index is an important advocacy tool based on the principle of emulation between states. Because it is now so well known, its influence over the media, governments and international organizations is growing.
Sri Lanka (141st, up 24 places) is the Asian country that rose most in the 2016 Index. Its journalists no longer had to fear telephone threats or enforced disappearances. All other South Asian nations also improved their ranking position as Afghanistan is in 120th place, up by 2 places, Bangladesh (144, up 2 places), Bhutan (94, up 10 places), India (133, up 3 places), Nepal (105) and Pakistan (147, up 12 places). More here.
12. Attacks on the Press: Gender and Media Freedom Worldwide (CPJ)
A special brand of online abuse is becoming a de facto occupational hazard for many female journalists… Though the impact and prevalence of Internet abuse and trolling is increasingly well documented and aired in public forums, less is known about those who engage in it and why. The anonymity and fluidity of social media, and the fact that trolls come in many shapes and sizes, make it hard to pin down an archetype. Read more.
13. Is free expression on internet shrinking in Nepal? (Republica)
With nearly half of total population of Nepal using internet for various purposes including communications, entertainment and knowledge, the multi-stakeholders subject of internet freedom has drawn concerns from different quarters. Today the global village concept has been materialized when people from one corner of society can communicate their ideas and opinion to the rest of the world through internet. The growing use of social media such as Facebook, Twitter and online communication tools like Skype and Viber has deconstructed the practice of communications and opened up avenues for citizens to be constructive part of governance from any part of the world, regardless of any borders. Read here.
14. Zeenat Shahzadi: Fears for missing Pakistan reporter (BBC)
Zeenat Shahzadi is believed to be the first female journalist "forcibly disappeared" in Pakistan. Nearly a year has passed since she disappeared. Her family and human rights groups say she was abducted by security agencies who have been accused of illegally detaining thousands of people under the guise of anti-terrorism operations.
The government sponsored Commission on Enforced Disappearances has been investigating Zeenat Shahzadi's case. A senior official, who would only talk off the record, said efforts were being made to "recover" her and expressed hope that there would be progress on her case soon. This senior official also said security agencies had denied any link to her disappearance. Read here.
15. Journalists will not be charged over president's office protest (Maldives Independent)
The police in Maldives decided not to press charges against 17 journalists arrested from a peaceful sit-in protest at the president's office on April 3. A police spokesman said: "The cases have not been sent for prosecution, and all of the individuals who were arrested have been summoned to the police station and issued an official warning, advising them to comply with laws and regulations."
All 17 journalists and a bystander, who was also arrested from the protest, were summoned to the police headquarters Sunday and advised to exercise their right to free speech and assembly within the limits of the law. The 17 were held for some 12 hours on charges of resisting or obstructing law enforcement officers. More here.
16. Bangladeshi bloggers: What we want the world to know (CNN)
Bangladesh has become a dangerous place for anyone who dares to cross an invisible line set by Islamic extremist's intent on silencing dissenting voices with knives and guns. In the last two years, at least eight atheists and gay rights campaigners have been killed in attacks in the majority Muslim country.
CNN approached three bloggers who know their lives are at risk to ask what they wanted the world to know. For their own safety, we didn't want to identify them. However, at their insistence, CNN has agreed to put their names to their words because, as one said, not doing so "will boost extremists' morale." Read here.
***
SAMSN is a group of journalists' trade unions, press freedom organizations and journalists in South Asia that work together to support freedom of expression and association in the region.
For further information on SAMSN, visit: https://samsn.ifj.org/us/
If you have information on a press freedom violation or matters relating to media freedom and journalists' rights in South Asia, contact staff at IFJ Asia-Pacific so that action can be taken. To contribute to this bulletin, email [email protected]
Photo: IFJ South Asia Gender Coordinator – Dilrukshi Handunnetti – speaks at the launch of the South Asia Press Freedom Report. Credit: UNESCO
Written By

IFJ Asia-Pacific
The IFJ represents more than 600,000 journalists in 140 countries.
For further information contact IFJ Asia-Pacific on +61 2 9333 0946
Find the IFJ on Twitter: @ifjasiapacific
Find the IFJ on Facebook: www.facebook.com/IFJAsiaPacific
Comments