Press Statement
South Asia: SAMSN members committed to media freedom and the rights of journalists
27 Nov, 2019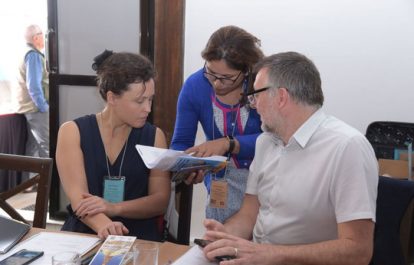 The International Federation of Journalists (IFJ) and the South Asia Media Solidarity Network (SAMSN) reaffirm their commitments to build stronger unions and associations, fight for journalist safety and media freedom, protect ethical journalism and campaign for a just transition from offline to online media. A South Asian workshop of IFJ affiliates entitled 'Future Organising and Transforming Trade Unions in South Asia' held on November 6 – 8,  passed the resolution to reaffirm their commitment to collective action to protect the rights and safety of journalists.
The three day workshop organised jointly by IFJ and Friedrich-Ebert-Stiftung (FES), a German social justice foundation, discussed emerging issues of journalism including the impact of digitalisation, digital journalists rights and professionalism and ethical journalism. The workshop members reviewed the media practices of SAMSN members  and discussed ways to enhance national collaboration and solidarity between journalists organisations on common issues.
At a time where internet shutdown, website closure, criminalisation and undermining of online journalism is rife, the Kathmandu resolution reaffirmed the SAMSN members' commitment to end internet shutdowns, website closures and actions which undermine the free flow of information.
To enhance the safety of journalists, SAMSN members reiterate their commitment to improve the monitoring of violations of journalists rights, demand action to tackle impunity, campaign for employers to accept their responsibility for training, providing equipment and insurance for journalists and freelancers and seek to address the sexual harassment – faced by women journalists.
In order to build stronger unions and associations, SAMSN members are committed to reviewing union's rules, structures and representativeness to enable digital journalists  and freelance workers  to play an active role
In response to continued job losses among South Asia journalists, SAMSN members oppose unwarranted job losses. In the event of redundancies, SAMSN members demand fair compensation  and will campaign to provide funds for reskilling and retraining, enabling media workers who lose their jobs to take up new employment opportunities.
IFJ's South Asian affiliates are committed to protecting professionalism and ethical journalism by promoting the IFJ's global charter of ethics, developing a digital charter for media and social media, and promoting awareness of digital workers' rights and responsibilities.
Written By

IFJ Asia-Pacific
The IFJ represents more than 600,000 journalists in 140 countries.
For further information contact IFJ Asia-Pacific on +61 2 9333 0946
Find the IFJ on Twitter: @ifjasiapacific
Find the IFJ on Facebook: www.facebook.com/IFJAsiaPacific
Comments