Press Statement
South Asia: SAMSN's plea for journalists, media houses and the government
25 Mar, 2020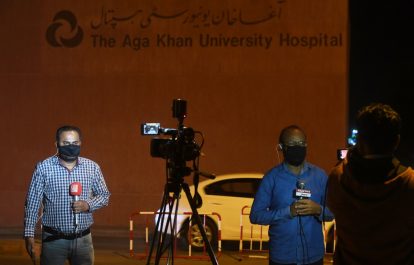 Despite the importance of journalism during a crisis, reporters continue to face challenges to their health and safety during the COVID-19 outbreak. The International Federation of Journalists (IFJ) and the South Asia Media Solidarity Network (SAMSN) call on journalists, media houses and South Asian governments to act collectively against the COVID-19, by supporting responsible journalism. SAMSN is a network of journalists unions from Afghanistan, Bhutan, Bangladesh, India, the Maldives, Nepal, Pakistan and Sri Lanka who together to advocate for the rights of journalists, freedom of expression and association.

The IFJ and SAMSN have documented a number of challenges for journalists' health and safety during the COVID-19 outbreak. While some media houses have taken steps to protect their workers by allowing journalists to work from home and encouraging safe reporting, an overwhelming number of journalists are forced to put themselves at risk due to the inaction of employers.It is crucial for journalists and media houses to report responsibly about the pandemic and thus necessary for South Asian governments to create an environment for safe and responsible journalism.
Amid the outbreak of COVID-19, the IFJ and SAMSN, a regional network of media unions in South Asia have issued the following recommendations for journalists:
1. Safety is your first priority. Keep yourself safe.
2. If you are classified as a vulnerable person including in an. older age group, pregnant women, someone with an underlying health issue, it is advised not to participate in the field reporting.
3. If you go into the field ensure you are aware of the latest development on COVID-19 in that area. Remember to conduct a risk assessment before you go assignment. Consider bringing supplies such as hand sanitizers, soap, food and personal protective equipment.
4. While reporting, please ensure that you maintain your distance from others, including an interviewee or officials and follow the health protocols. Always cover your mouth and nose when coughing and sneezing. Sterilize your microphone as they may be used by another person. Remember to wash and sanitise your hands regularly.
5. Publish verified and authentic information only. Keep reports truthful and accurate. Do not be guided by hearsay or misinformation.
6. Avoid in-person gatherings and press conferences.
7. Verify information from two sources before publishing to prevent spread of misinformation and panic.
8. While reporting about the affected population, maintain confidentiality and privacy. Do not discriminate against an infected person.
9. Class, caste, region and ethnic bias should not be reflected in your reporting.
10. Gender dimension needs to be considered while reporting and disseminating information on COVID-19.
Recommendation for media houses
1. Media houses are advised to manage 'work from home' during the pandemic so far as practicable. Working from home minimises the chance of the staff contracting or spreading the virus.
2. Media houses are advised to provide staff with the necessary safety equipment and protective measures
3. Media houses must prioritise factual reporting. Competition of breaking news is discouraged to minimise the spread of misinformation.
4. Media house are recommended to provide special assistance to employees, including but not limited to the following measures; timely and full monthly remuneration, loan support, medical facilities, health insurance and social support.
5. It is recommended for newspapers to limit circulation of printed newspapers and magazines to minimize the risk of contracting the virus. Newspapers are encouraged to only produce digital copies during the pandemic.
6. It is important to manage pick up and drop facilities for staffs and ensure no public transport are allowed during the lockdown period. Also, all vehicles that are used to transport staff need to be disinfected and sanitized.
7. Media houses are advised to formulate an editorial policy that prioritises news that offers accuracy, positivity, hope and courage.
8. Gender considerations must be adopted when developing reporting strategies and providing protection to staff.
Recommendation for governments
1. SAMSN urges governments in South Asia to not organise gatherings for press meeting or conferences during the pandemic. Governments are advised to conduct press conferences online.
2. Governments must ensure the free flow of information during the pandemic. SAMSN urges governments to ensure the population has access to high speed internet.
SAMSN said: "Media and journalists make a significant contribution in efforts to mitigate the impact of the COVID-19. Self-care, the practice of responsible journalism, clarifying the myths and as far as possible highlight positive news are some of the key strategies steps journalists can adopt to mitigate the negative impact".
The IFJ said: "The IFJ urges governments to adhere to the recommendations of journalist unions and collectively advocate for safe and responsible reporting during the pandemic".
Written By

IFJ Asia-Pacific
The IFJ represents more than 600,000 journalists in 140 countries.
For further information contact IFJ Asia-Pacific on +61 2 9333 0946
Find the IFJ on Twitter: @ifjasiapacific
Find the IFJ on Facebook: www.facebook.com/IFJAsiaPacific
Comments