Press Statement
South Asia: Truth in a Time of Contagion: The Viral Frontline
05 May, 2021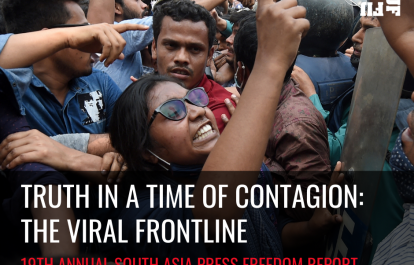 As the second wave of the Covid pandemic surges across the South Asia region, journalists remain in the thick of a storm that has surrounded their working lives every day for the past year. In this climate, the International Federation of Journalists (IFJ) and the South Asia Media Solidarity Network (SAMSN) launched the 19th annual South Asia Press Freedom Report, Truth in a Time of Contagion: The Viral Frontline.
 As the title suggests, Truth in a Time of Contagion: The Viral Frontline goes inside the key media issues of the Covid-19 pandemic and documents the stories of struggle, courage and resistance of a media industry in crisis and under attack on economic and political fronts in almost every country of the region.
"As the second wave of the Covid pandemic surged across South Asia in early 2021, journalists found themselves in the thick of the storm, without a safety net and scant institutional support. Battling not only the deadly virus, they mounted stiff resistance to states trying to control the narrative and plaster over the horrific reality. Journalists breaking stories of rising deaths, collapsing health systems and unpreparedness and mismanagement at the highest levels of government were silenced, hounded, arrested and penalised," the IFJ overview of the region said.
The 2020-21 South Asia Press Freedom Report outlines how controlling the flow of information seemed to be an overriding preoccupation of governments across the region. From reigning in the burgeoning independent digital media and clamping down on critical voices on social media, governments and social media platforms fell short of upholding freedom of expression at a critical juncture.
Country reports from the region tell the story of journalists reporting from the frontlines without adequate protective equipment. It hears from journalists themselves who exposed themselves to infection to tell stories of the suffering in hospitals, in graveyards and crematoria – as frontline workers. It sheds light on how journalism as a craft has been impacted – by massive job losses, wage cuts and a massive migration of more news to digital platforms.
The IFJ said a sad fact was that in the period, too many journalists have lost their lives while reporting on the pandemic –figures from IFJ's regional affiliates put this at nearly 300 lives lost and thousands more infected. The report also documents the violations from the period from May 1, 2020 to April 30, 2021, and includes more than 180 violations, including 27 journalist killings, 1 death in custody, 58 journalist arrests or detentions and 52 violations of minority, regional and rural journalists.
In launching the report, the IFJ said: "South Asia has always been a challenging place for journalists. This year it got even tougher. As the world and its media came to grips with and responded to the global health crisis, the impacts on journalism and media were acutely felt in South Asia."
Read the online report: Truth in a Time of Contagion: The Viral Frontline
Written By

IFJ Asia-Pacific
The IFJ represents more than 600,000 journalists in 140 countries.
For further information contact IFJ Asia-Pacific on +61 2 9333 0946
Find the IFJ on Twitter: @ifjasiapacific
Find the IFJ on Facebook: www.facebook.com/IFJAsiaPacific
Comments