Press Statement
South Asian journalist unions condemn brutal murder of US journalist James Foley
22 Aug, 2014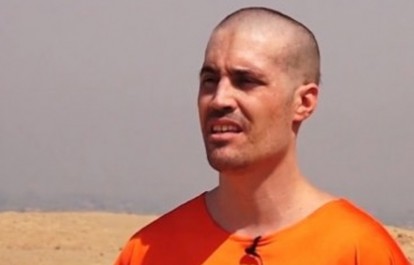 South Asia's journalist unions today united in their condemnation of the brutal murder of US journalist James Foley in the Middle East. Foley, a respected international photojournalist who had previously survived a kidnapping in Libya, was killed by ISIS militants and his murder circulated to the world via a video on the internet on August 19.
South Asia's journalist unions, denounced the ISIS action as an affront to journalism globally that must be dealt with swiftly. So far this year, 67 journalists have lost their lives and the Middle East remains an extremely dangerous environment for media personnel and journalists. Foley went to Syria because he wanted to 'nail down the facts' and 'see the world'.
Uppala Lakshman President of the National Union of Journalists (India) said "We condemn the brutal killing, and call for the creation of a code of conduct for journalists internationally stationed."
SN Sinha President of the Indian Journalists Union said, "This shameful and cowardly act highlights the grave threats that journalists face while covering conflict situations. They demanded the unconditional release of Mr. Steven Satloff."
Tara Baysal, Vice President of the NUJN said "The culprits must be brought in judiciary frame as soon as possible and these kinds of activities should immediately be stopped in Iraq."
Ch.Purnachandra Rao, Vice President of the AINEF said "He urged the UN to come forward and take necessary steps to protect the Fourth Estate, its journalists immediately. He also expressed his dis-satisfaction to the respective Governments as they are spectators of the attacks on the Journalists." he added.
Ketabullah Khpolwak Sapai, President of AIJA said "The attack was inhumane, unethical and illegal and we condemn the violence of the ISIS forces."
IFJ Asia-Pacific Acting Director, Jane Worthington, said "The IFJ condemns the brutal murder of James Foley and calls for the immediate release of US journalist Steven Sotloff also featured in the ISIS video on August 20. Foley's murder highlights the serious dangers and challenges that confront our profession today. The world has great cause for concern when the voices of journalists and freedom of expression are extinguished in such a brutal manner."
Afghan Independent Journalists Association
All Indian Newspaper Employees Federation
Bangladesh Manobadhikar Sangbadik Forum
Bhutan Journalists Association
Federation of Nepalese Journalists
Indian Journalists Union
National Union of Journalists, India
National Union of Journalists, Nepal
Maldives Association of Journalists
Sri Lanka Working Journalists Association
Pakistan Federal Journalists Union
Written By

IFJ Asia-Pacific
The IFJ represents more than 600,000 journalists in 140 countries.
For further information contact IFJ Asia-Pacific on +61 2 9333 0946
Find the IFJ on Twitter: @ifjasiapacific
Find the IFJ on Facebook: www.facebook.com/IFJAsiaPacific
Comments