Press Statement
Spike in attacks on journalists amidst entrenched impunity in India
26 Sep, 2017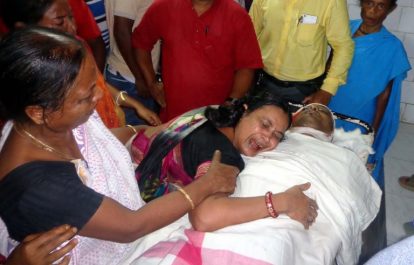 The International Federation of Journalists (IFJ) expresses serious concern over the increasing number of crimes against journalists and incidents of press freedom violation in India. The IFJ urges the Indian government to institute measures to ensure the safety of journalists around the country.
Three journalists were murdered in September, a month that also saw a sharp rise in the number of attacks and threats on journalists. Senior journalist KJ Singh was murdered in Mohali, Punjab on September 23 while Shantanu Bhowmik was killed by a mob in Tripura on September 20. Gauri Lankesh was the victim of a targeted killing in Bengaluru on September 5, and her killers are yet to be identified.
On September 24 night, journalist Sajeev Gopalan was hospitalized after being allegedly assaulted by police officials, including an inspector, in front of his house in  Varkala near Kerala's state capital Thiruvananthapuram. Gopalan, who works for Malayalam newspaper Kerala Kaumudi, had published a story criticizing the police in a case about the alleged abduction of two women. The policemen reportedly mentioned the story during the assault.
On September 23, several journalists were injured after being baton charged  by the police while covering the violence at the Banaras Hindu University (BHU) in Varanasi in Uttar Pradesh state, Prime Minister Narendra Modi's constituency. Four journalists sustained injuries and needed treatment in hospital. The police also damaged their cameras and other equipment.
Similarly, Biju Muthathi, a television journalist in Kerala, received death threats for the title of his short documentary, Thendigalude Daivam or 'God of Beggars', about a temple that shelters the aged and destitute. Many threats seem to emanate from the right-wing Hindu Aikyavedi, whose president K.P. Sasikala is recently said to have warned "progressive writers" to carry out a religious ritual lest they become "the next Gauri", referring to the murdered Bengaluru journalist Gauri Lankesh. "I have received hundreds of calls abusing me and my family and threatening to kill me," Muthathi said after registering a written complaint with the police. The People TV aired the documentary on September 24.
On September 20, unidentified people attacked the office of Kerala-based regional news channel Asianet News television in Alappuzha district reportedly for its series of news reports about the alleged involvement of a state minister in encroaching on land for his plush resort. A car parked in front of the office has been damaged in the attack.
The IFJ said: "The increasing number of attacks on journalists and media in India is a serious threat to independent journalism in the country. The IFJ urges the Indian authorities to act immediately to ensure safety of journalists and media; and speedy investigation and prosecution in crimes against journalists to ensure such incidents are not repeated." The lack of prosecution of perpetrators of violence against journalists emboldens intolerant elements, who can be checked only if impunity ends.
Photo: The mother of Indian journalist Shantanu Bhowmick weeping over his body at a hospital in Tripura. Bhowmick is one of three journalists killed in September in India, as attacks on journalists have reached record levels as impunity runs rife across the country. Credit: ARINDAM DEY / AFP
Written By

IFJ Asia-Pacific
The IFJ represents more than 600,000 journalists in 140 countries.
For further information contact IFJ Asia-Pacific on +61 2 9333 0946
Find the IFJ on Twitter: @ifjasiapacific
Find the IFJ on Facebook: www.facebook.com/IFJAsiaPacific
Comments