Attacks on Media
Spreading awareness about sexual harassment
14 Apr, 2018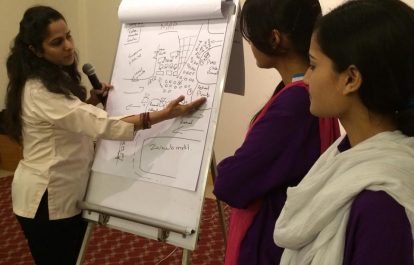 Despite the fact that sexual violence and harassment are rampant, there is very little awareness about it, says Lubna Jerar Naqvi who is doing her bit to raise awareness.
Sexual harassment and sexual assault are rampant but in societies like Pakistan – religious and somewhat conservative– it is usually not talked about and if anyone experiences sexual violence, it is generally ignored. But it was hard to ignore when in early 2018 a tortured and raped body of a 7-year-old was found on a rubbish heap in Kasur. For some reason this case shocked the whole country, and soon sexual violence and sexual harassment came into public discussion via the mainstream media.
Unfortunately, for Kasur – a small city located in Punjab, merely 52.5km from Lahore, provincial capital and hometown of Chief Minister Shehbaz Sharif – it has been in the news since 2015 after a pornography scandal hit the news. Hundreds of children had fallen victim to a gang of pornographers which had sold sex tapes of the minors.
The gang had been operating in Kasur from 2006 to 2014, and more than 700 cases were reported.
There was initial outcry following this and some action was taken against the perpetrators, but the problem was not properly dealt with which probably led to the minor's body was found on the rubbish heap.
Journalists are more aware of the dangers lurking in the society compare to others. But sometimes even they ignore these issues due to different reasons like doing stories only assigned to them.
Despite being aware of sexual harassment, I was quite surprised when I attended a training workshop held by the International Federation for Journalists (IFJ) in Karachi in 2013. The workshop highlighted many points about sexual harassment – some of which most of the participants were aware of but had always ignored.
This IFJ workshop helped me understand the difference between harassment and sexual harassment and how to deal with specific situations. It was an eyeopener and made me realize that many gestures and words that we took for granted fell under the definition of sexual harassment at the workplace. The workshop on online and digital safety gave me an insight to the dangers of sexual abuse being translated into digital space, making it even more dangerous.
Following these workshops, I decided to spread awareness about sexual harassment, but it took me a couple of years to develop a range of presentations and lectures for Union members as well as non-members.
This also made me realize how many parents and children were not only unaware but also vulnerable to sexual harassment. As if that wasn't bad enough the vast and open space that the digital world gave more room for sexual predators to attack without fear.
I contacted some educational institutes and conducted talks with staff and students on sexual harassment and safety online. Some participants reached out not only to talk about the experience but also seek help.
This has only made me more determined to do my small part and continue to try and spread awareness and help people to tackle harassment and how to protect themselves. IFJ helped me to understand the seriousness of sexual harassment and how to tackle it, and I am taking that forward and trying to help others in my own small way.
Photo: Participants of 2013 IFJ Gender Equity Workshop in Karachi, Pakistan sharing their ideas.
Written By
Comments