Press Statement
Sri Lanka blocks social media as communal violence escalates
09 Mar, 2018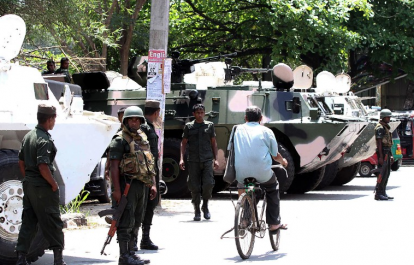 The International Federation of Journalists (IFJ) joins its affiliate the Free Media Movement (FMM) Sri Lanka in expressing concern over the blocking of social media in the ongoing state of emergency. The IFJ urges the Government of Sri Lanka to ensure free flow of credible information during this period of crisis.
On March 7, the Telecommunications Regulatory Commission of Sri Lanka (TRCSL) ordered all telecommunication operators to restrict access to Facebook, Viber and Whatsapp across the country for three days to prevent the spread of communal violence that spread in Ampara and Kandy districts after Buddhist-led attacks on minority Muslim population. Internet access was completely blocked in Kandy.
The FMM, while acknowledging that social media were used to spread statements of hate, said that actions taken to prevent the use of social media to trigger hate and violence, should not hinder democracy by contravening a citizen's right to freedom of expression.
FMM Convenor C Dodawatta, in a statement said: "The government did not set a good example by declaring the state of emergency and blocking social media platforms in its attempts to control this conflict situation, which could have been mitigated under the normal law. We have historical evidence to prove that governments used state of emergency to suppress the right to democratic practices of the public. Therefore, the FMM urges the government to practice the standard law and public awareness in mitigating harmful activities targeting ethnic groups. "
The FMM also praised media institutions for performing their civic duties to the best of their abilities safeguarding the profession from external forces and orders during the communal violence. It demanded that the positive situation should be developed further enabling journalists to perform their functions in a more efficient manner.
The IFJ said: "The IFJ is seriously concerned over the blocking of internet and social media in Sri Lanka following declaration of emergency after the communal violence. Ban on internet or any service of the internet hinders the people's freedom of expression and rights to information as well as could lead to serious social and financial implications. Therefore, the IFJ urges the Sri Lankan government to ensure the free flow of information and deal with violence without restricting the rights of the citizens."
Photo: Sri Lankan army patrol on the streets of Katugastota, a suburb of Kandy on March 8, 2018. Sri Lankan police said petrol bombs were hurled at a mosque on March 8 as hundreds of troops patrolled a troubled central district where anti-Muslim violence has left three people dead.
Written By

IFJ Asia-Pacific
The IFJ represents more than 600,000 journalists in 140 countries.
For further information contact IFJ Asia-Pacific on +61 2 9333 0946
Find the IFJ on Twitter: @ifjasiapacific
Find the IFJ on Facebook: www.facebook.com/IFJAsiaPacific
Comments