Press Statement
Sri Lanka: High profile journalist attacked by armed gunmen
21 Feb, 2022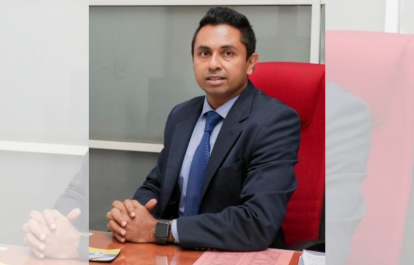 The residence of prominent television journalist, Chamuditha Samarawickrema, was attacked by four unidentified assailants in the Piliyandala district of Colombo on February 14. The International Federation of the Journalists (IFJ) and its Sri Lanka affiliates, the Federation of Media Employee's Trade Unions (FMETU), the Free Media Movement (FMM), and the Sri Lanka Working Journalists Association (SLWJA), urge the Sri Lankan authorities to expedite their investigation and bring justice to the perpetrators.
The assailants reportedly stormed the Cambridge Court housing complex, where Samarawickrema and his family were staying, at around 2:00 am and began throwing stones and feces at the house, damaging several windows.
CCTV footage showed the assailants arriving in a white car and threatening the security guard on duty by pointing a gun at his head. The suspects, who concealed their identities by wearing helmets and facemasks, were also seen carrying several items while entering the home, including a bag and a cardboard box.
According to police, Samarawickrema, who has been known to criticise the ruling Rajapaksa government, was "shaken but unhurt" after the raid. The journalist, affiliated with Hiru TV and who also runs an interview program, 'Truth with Chamuditha', has previously aired episodes investigating government corruption, the Rajapaksa family, and the Sri Lankan police.
An investigation into the attack was launched by police on February 15, and a court ordered security to be given to Samarawickrema following the incident.
This is not the first time  Samarawickrema has been targeted. He has been vocal about receiving several phone call threats and in 2021 claimed that his life was under serious threat.
FMETU's General Secretary, Dharmasiri Lankapeli, said: "It is no secret to the people that there were powerful political hands behind all these incidents. The attack on journalist Chamuditha Samarawickrema can be suspected of being a similar act. Therefore, the FMETU strongly urges the government and the authorities to conduct a thorough investigation into the attack and reveal to the country the real thugs behind the attack."
FMM Convener, Lasantha De Silva, said: "This attack underscores the dangerous environment in which journalists have been working in Sri Lanka in recent decades. Therefore, we urge serious attention of the government on journalist's safety."  
SLWJA Secretary, Frank De Zoysa, said: "If there was an issue regarding Chamuditha Samarawickrama's use of media, it should have been reported to the relevant authorities in accordance with the law of the country. SLWJA strongly condemns such arbitrary attacks on journalists and urges the government to investigate the case and punish the guilty."  
The IFJ said: "The attack on Chamuditha Samarawickrema's residence is yet another deliberate attempt to stifle press freedom in Sri Lanka. The IFJ urges the government and authorities to expedite their investigations, bring the perpetrators to justice and end the culture of impunity for crimes against journalists in Sri Lanka."  
Written By

IFJ Asia-Pacific
The IFJ represents more than 600,000 journalists in 140 countries.
For further information contact IFJ Asia-Pacific on +61 2 9333 0946
Find the IFJ on Twitter: @ifjasiapacific
Find the IFJ on Facebook: www.facebook.com/IFJAsiaPacific
Comments