Press Statement
Sri Lanka: Journalist arrested and put under remand
12 Apr, 2021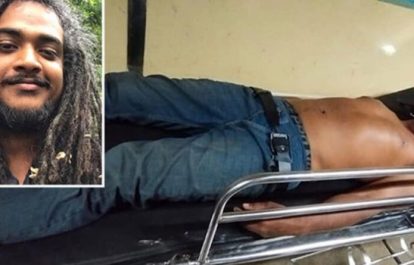 Freelance Journalist Malika Abeykoon, who was assaulted and arrested by Sri Lankan police on April 7, has been placed on remand until April 12. The International Federation of Journalists (IFJ) and its Sri Lankan affiliates, the Federation of Media Employees Trade Unions (FMETU) and the Free Media Movement (FMM) demand his immediate release.
Abeykoon was arrested while he was covering a health workers' protest rally organised by the United Health Workers Union (UHWU) on April 7. Following his arrest, he was brutally assaulted multiple times inside Maradana Police Station. The journalist was not given any reason for his arrest.
According to FMM Abeykoon was put before the Maligakanda Magistrate's Court on April 8 with a fabricated medical report signed from a judicial medical officer stating that he had not been assaulted. In response, Abeykoon removed his shirt and showed the judge the bruises and scars he received the night before in the Maradana police station. He also revealed that no medical attention was given to him while he was in police custody. The judge then asked Abeykoon to submit a medical report from the prison hospital and placed him on remand until April 12.
Following his arrest, activists protested in front of Maradana police station demanding his immediate release. The protestors accused the government of violating their democratic rights. No protestors were allowed to visit Abeykoon.
The FMETU Secretary General Dharmasiri Lankapeli, said: "The FMETU strongly condemns the arrest of photojournalist Malika Abeykoon. He has been arrested and assaulted in police custody, after being remanded in on false charges. The federation calls for an investigation into the illegal activities of the police and the immediate release of journalist Malika Abeykoon."
The FMM Convenor Seetha Ranjanee, said: "The FMM demands the immediate release of Malika Abeykoon while urging the inspector general of police to conduct a formal and impartial inquiry into the incident and to take strict legal action against the officials responsible."
The IFJ said: "The arrest and assault on Malika Abeykoon is a symbol of the Sri Lankan government's increased efforts to silence critical voices. We urge the Sri Lanka government to immediately release of Abeykoon and ensure that the police officials responsible for his unjust assault are punished."
Written By

IFJ Asia-Pacific
The IFJ represents more than 600,000 journalists in 140 countries.
For further information contact IFJ Asia-Pacific on +61 2 9333 0946
Find the IFJ on Twitter: @ifjasiapacific
Find the IFJ on Facebook: www.facebook.com/IFJAsiaPacific
Comments