Press Statement
Sri Lanka: Union busting tactics, media workers fired for forming house union
20 Mar, 2019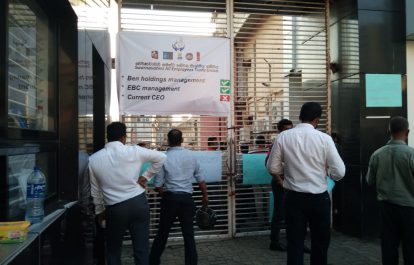 Sri Lanka broadcaster Swarnavahini TV fired 15 employees for union activity on March 18. The International Federation of Journalists (IFJ) and its affiliate the Free Media Movement (FMM), the Sri Lanka Working Journalists Association (SLWJA) and the Federation of Media Employees' Trade Union (FMETU) have strongly condemned the layoffs and called on the company to respect workers' fundamental right to create a trade union.
On Monday, approximately 270 employees of Swarnavahini TV participated in a meeting in the company's car park, with the aim to form a union to fight for better working conditions. The meeting was scheduled during staff lunch hour, however at the end of the meeting the gates to the office were locked and they were blocked access. They reported the incident to the police, and when they were finally able to access the offices, 15 staff members found letters informing that they had been let go for 'deliberately disrupting the business and operations' and for using the company sound system at an unauthorized gathering.
The union was formed to fight for bettering working conditions. Staff reported that in the past 12 months there had been no salary increases, pay was not on time and there was bias when it came to promotions. This is the first case of a private media company unionizing in Sri Lanka.
FMM convenor, Dodawatta said: "The Free Media Movement will never condone any type of bargaining for any other reason on the 'rights of journalists and media workers' including the right to assembly. Therefore, the Free Media Movement calls upon the Swarnavahini administration to reinstate to services the suspend journalists and media workers immediately and to respected their rights."
SLWJA president, Duminda Sampath said: "Every employee has a right to set up a trade union or to become a member of a trade union as per their wishes. Therefore SLWJA request the management of Swarnavahini to re-appoint the fired workers in their positions and to ensure their job security."
FMETU president Karunaratne Gamaga said: "The Federation of Media Employees' Trade Union vehemently condemn the action by the management officials of the Swarnavahini to suppress its employees giving callous disregard to the fundamental rights of its employees to form a union and hold the management accountable for the ongoing crisis situation there."
The IFJ said: "The sacking of 15 employees for unionizing is a blatant attack of freedom of association by Swarnavahini TV management. Journalists and media workers have a right to unionise and actions such as these create a culture of fear and intimidation.  Threatening and firing workers for exercising their legitimate right for freedom of association is unacceptable. We demand the immediate reinstatement of employment for the 15 workers and for the management to recognize the new union."
Written By

IFJ Asia-Pacific
The IFJ represents more than 600,000 journalists in 140 countries.
For further information contact IFJ Asia-Pacific on +61 2 9333 0946
Find the IFJ on Twitter: @ifjasiapacific
Find the IFJ on Facebook: www.facebook.com/IFJAsiaPacific
Comments