Press Statement
Sri Lanka: Police and key murder suspect obstruct photojournalist outside court
13 Jul, 2020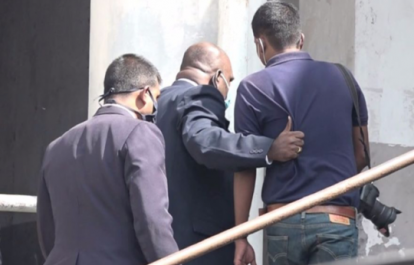 Police and inspector Neomal Rangajeewa threatened and obstructed Akila Jayawardene, a photojournalist from the Mavubima Newspaper outside Colombo High Court on July 10. The International Federation of Journalists (IFJ) and its affiliates Free Media Movement (FMM) and Sri Lanka Working Journalists Association (SLWJA) condemns the obstruction and calls on authorities to conduct an inquiry into the incident.
The former officer in charge of the Sri Lanka Police Anti-Narcotics division, Inspector Neomal Rangajeewa who is also a key suspect in the Welikada prison murder case threatened Akila and physically disrupted him from taking photos outside the courthouse.
Police then proceeded to ignore Akila's journalist identification issued by the Ministry of Mass Media, grabbed his shirt and forcibly escorted him to the police station on the court premises. At the station, police removed the camera's memory card. According to SLWJA, this is not the first incident of authorities preventing journalists from reporting outside a courthouse through violent and coercive means.
FMM said: "The Free Media Movement strongly condemns the conduct of Inspector Neomal Rangajeewa who was appearing in court for a case that is being heard against him and calls on the authorities to conduct an inquiry into the incident immediately and to respect the right of citizens to information and news."
SLWJA said: "Sri Lanka Working Journalists' Association urge the relevant authorities to carry out an impartial inquiry into this and also request to take necessary action to avoid repetition of such incidents in the future."
The IFJ said: "When journalists are intimidated into silence and submission, it threatens not only the press but also the democratic right to information and transparency. The IFJ demands authorities to investigate the obstruction and review police operations that have led to the repeated barring of journalists attempting to report outside courts." 
Written By

IFJ Asia-Pacific
The IFJ represents more than 600,000 journalists in 140 countries.
For further information contact IFJ Asia-Pacific on +61 2 9333 0946
Find the IFJ on Twitter: @ifjasiapacific
Find the IFJ on Facebook: www.facebook.com/IFJAsiaPacific
Comments