Press Statement
Sri Lanka: Regional unions demand media freedom; end to political corruption
18 Jul, 2022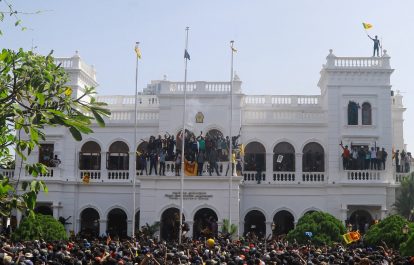 The South Asia Media Solidarity Network (SAMSN) today called on Sri Lanka's political leaders to ensure accountability, democracy and a free and functioning media are upheld amid the country's political and economic crisis. As the country marks 100 days of mass uprising in Sri Lanka, the region's media unions said there is a critical need for regional stability and a return to a functioning democracy reflecting the rights of Sri Lanka's people.
Since the Sri Lankan protests began on April 9, thousands of the country's citizens have led calls for an end to the Rajapaksa-led government. The protests have been defined by violence and harassment against media workers, citizens and activists and widespread suppression of the media from the government, including the physical assault of at least eight journalists on July 9.
Following ongoing mass protests, on July 11, the prime minister's office confirmed that beleaguered President Gotabaya Rajapaksa would resign. It followed dramatic scenes of his residence being stormed by protestors on July 9. Prime Minister Ranil Wickremesinghe was sworn in as the acting president and Sri Lanka's parliament begins preparations for the contentious election of a new government on July 20. Wickremesinghe has agreed to resign from the prime ministerial position once the new government is formed.
Concerningly, on July 18, the acting president enforced a state of emergency across the island under Article 40(1) of the Sri Lankan constitution, in the interests of "public security, the protection of public order and the maintenance of supplies and services essential to the life of the community."
SAMSN remains gravely concerned that the imposition of emergency can and will pave the way for a serious curbing of fundamental freedoms, including Freedom of Expression.
"There is a critical need for a return to a peaceful political atmosphere in Sri Lanka in order for the proper parliamentary democratic process to be implemented. For Sri Lanka to obtain the urgent international help it needs, it must have a legitimate and accountable government that is respected by its people," SAMSN said.
SAMSN notes the demands of the Sri Lankan people and calls on political leaders to take immediate measures for:
Urgent political stability in the country;
Implementation of a proper economic plan against corruption;
Rapid recovery efforts for Sri Lankan civilians' lives;
Freedom of media and access to information so ordinary citizens can remain informed of vital developments;
Protection for journalists covering developments on the ground according to international obligations.
SAMSN notes that protesting citizens have expressed continued opposition to any Rajapaksa-controlled Sri Lanka Podujana Party (SLPP) being involved in an all-party government. The Rajapaksa family is accused of widespread corruption, economic mismanagement, divisive politics and militarisation of the government, and there are legitimate fears that any SLPP government would give the family ability to control the country behind the scenes. Media activists have reported concerns at political "horse dealing" by MPs that could erode any hope of democratic stability.
The SAMSN said: "Reiterating its solidarity with Sri Lanka journalists and media workers, Sri Lanka's government must heed the calls of the people and ensure accountability and an end to the corruption. The divisive ultranationalism rhetoric perpetuated by the Rajapaksa family must end so that true reconciliation and recovery of the country can happen."
SAMSN members
Afghan Independent Journalists Association (AIJA)
Afghanistan National Journalists Union (ANJU)
Federation of Media Employees Trade Unions (FMETU)
Federation of Nepali Journalists (FNJ)
Free Media Movement (FMM)
Indian Journalists Union (IJU)
Journalist Association of Bhutan (JAB)
Maldives Journalist Association (MJA)
National Union of Journalists, India (NUJ-I)
Nepal Press Union (NPU)
Pakistan Federal Union of Journalists (PFUJ)
Sri Lanka Working Journalists Association (SLWJA)
Written By

IFJ Asia-Pacific
The IFJ represents more than 600,000 journalists in 140 countries.
For further information contact IFJ Asia-Pacific on +61 2 9333 0946
Find the IFJ on Twitter: @ifjasiapacific
Find the IFJ on Facebook: www.facebook.com/IFJAsiaPacific
Comments