Press Statement
Sri Lanka: Security forces attack journalists and unarmed protestors
22 Jul, 2022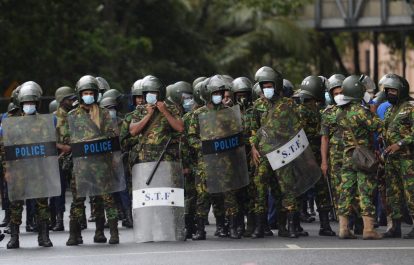 Sri Lankan security forces carried out a violent raid on the Galle Face protest site in Colombo on July 22, attacking and detaining journalists and unarmed protestors. The International Federation of Journalists (IFJ) and its Sri Lankan affiliates, the Free Media Movement (FMM), the Federation of Media Employees Trade Unions (FMETU) and the Sri Lanka Working Journalists Association (SLWJA), strongly condemn the brutal attacks on the media and call on the new Sri Lankan government to end its assault on press freedom.
n the early morning of July 22, thousands of military and police personnel entered the Gota Go Gama protest site at Galle Face, equipped with riot gear. According to St John Ambulance volunteers at the site, more than 50 people were injured, with three sent to hospital after the attack.
Three Xposure journalists, Rasika Gunawardena, Sabir Mohammed and Chaturanga Pradeep Kumara, were obstructed from entering the area to report by a group of Air Force officers on guard near the Kollupitiya intersection.
The soldiers struck Gunawardena on the head with a club and attempted to forcibly remove Mohammed's phone. Despite stating their identities and asking the officers not to interfere with their work as journalists, they continued to be beaten with sticks.
In a separate incident, video journalist Chaturanga Pradeep Kumar was arrested by another group of officers, with his whereabouts currently unknown. According to the FMM, Kasun Kumarage, of the Sri Lanka Press Institute, and BBC journalist Jareen Samuel were also arrested and attacked respectively.
The Bar Association of Sri Lanka issued a statement condemning the use of force against protestors and journalists and called for an immediate inquiry into the incidents.
On July 20, Sri Lanka's former prime minister Ranil Wickremesinghe was elected by legislators as Sri Lanka's new president, after beleaguered President Gotabaya Rajapaksa announced his resignation on July 11. The resignation followed the storming of the presidential residence in Colombo by protestors on July 9.
Dinesh Gunawardena, an ally of the Rajapaksa political family and a former schoolmate of Wickremesinghe, was appointed as Sri Lanka's prime minister.
The South Asia Media Solidarity Network (SAMSN) called for the protection of the media under the new government, expressing grave concern at the imposition of a state of emergency on July 18, which could pave the way for a serious curbing of fundamental freedoms, including Freedom of Expression. Since the mass anti-government protests began on April 9, the government has heavily suppressed the media and several media workers have been harassed, including the physical assault of at least eight journalists on July 9.
The FMM said: "FMM strongly deplores these heinous acts of violence and demands the authorities to release those arrested unlawfully. Such brutal attacks on journalists and protestors are a violation of the people's right to information and to protest. The essence of media freedom is the people's right to information."
The FMETU said: "FMETU strongly condemns the horrible attack by thousands of armed security forces on the peaceful protestors who were staying at the Galle Face struggle ground the last night. FMETU appeals to national and international media organizations, trade union movements, and civil society to intervene immediately to stop these undemocratic actions of the new president of Sri Lanka and government and to establish democracy in the country."
The SLWJA said: "SLWJA strongly insist that we do all possible intervention nationally and internationally against this suppression of the media by the government and not to touch the right of the people to know information."
The IFJ said: "The violent and unprovoked attacks against journalists and protestors at the Galle Face site are abhorrent breaches of democracy and press freedom. The human rights violations committed on the first day of Ranil Wickremesinghe's presidency set a dangerous precedent for Sri Lanka's social and political stability under the new government, with a blatant disregard for the media and the right to freedom of expression. The IFJ calls for an immediate investigation into the attacks so that those responsible can be held accountable."
Written By

IFJ Asia-Pacific
The IFJ represents more than 600,000 journalists in 140 countries.
For further information contact IFJ Asia-Pacific on +61 2 9333 0946
Find the IFJ on Twitter: @ifjasiapacific
Find the IFJ on Facebook: www.facebook.com/IFJAsiaPacific
Comments