Press Statement
Sri Lanka: Several journalists assaulted and detained during Mirihana protests
04 Apr, 2022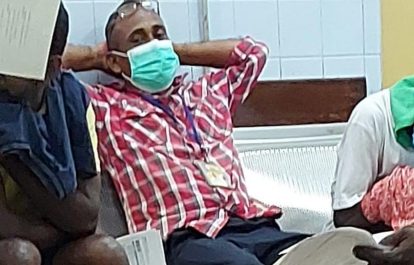 Several journalists were assaulted and at least six were taken into custody by police personnel from Sri Lanka's Special Task Force (STF) on March 31, while covering a protest in Mirihana, within the Nugegoda suburb of Colombo. The International Federation of Journalists (IFJ) and its Sri Lankan affiliates, the Federation of Media Employees Trade Union (FMETU) , Sri Lanka Working Journalists' Association (SLWJA) and the Free Media Movement (FMM), strongly condemn the journalists' assaults and detainments and urge Sri Lanka's government to allow journalists report independently and without fear.
On March 31, officers from the STF reportedly assaulted several journalists and detained at least six during a mass public protest outside President Gotabaya Rajapaksa's residence in Mirihana.
According to the FMETU, Avanka Kumara and Chatura Deshan, from Sirasa TV, Sumedha Sanjeewa Gallage, Pradeep Wickramasinghe, and Nissanka Werapitiya, journalists from Derana TV, and Waruna Wanniarachchi, a reporter for Lankadeepa newspapers, were amongst those arrested and assaulted while reporting on the protests.
Members of the president's media division also threatened journalists to cease reporting, including senior journalist Tharindu Jayawardena. The FMETU further reported that staff and journalists were harassed and arrested despite providing authorities with identity documents. The SLWJA reported that camera and  other equipments of  few journalists and media workers were also severely damaged.
According to Journalists for Democracy in Sri Lanka (JDS), Thisara Anurudda Bandara, a 28-year-old social media activist, was also detained and is being held at the Mutwal police station in Colombo.
Gallage, one of the assaulted journalists, reported that he was denied access to the hospital for treatment despite repeated requests. Detained journalist Awanka Kumara said that police attacked him despite knowing he was a reporter. According to JDS, some of the arrested journalists are to be released on bail following an intervention of more than 300 lawyers.
The Mirihana protestors accused President Rajapaksa of mismanaging the Sri Lankan economy and causing economic crisis with severe inflation, daily blackouts, a shortage of fuel and essential items.
On April 1, the Rajapaksa government declared a state of emergency, imposing a nationwide curfew following the protests. At least 600 protesters, including civil society members, journalists and rights activists have been arrested to date. The Sri Lankan Telecommunications Regulatory Commission also proceeded to ban all social media, including Facebook, Messenger, YouTube, WhatsApp, Viber, Twitter, IMO, Instagram, Telegram, Snapchat, and TikTok on April 2. The ban was lifted after 15 hours.
During the state of emergency, the Sri Lankan government was granted the authority to detain anyone, seize personal property, search any premises, and amend and suspend any laws, in the name of maintaining public security.
On April 1, the FMM submitted a letter to the Inspector General of Police demanding the authorities respect and maintain international human rights standards during the ongoing state of emergency. The FMM have named Gotabaya Rajapaska's presidential term a "dark period" in Sri Lankan history, with increased suppression of free speech and press freedom.
The FMETU said: "The FMETU demands the Sri Lanka government take immediate action to conduct an impartial investigation on the attack on the journalists and ensure that the right and responsibility of journalists to report facts and disseminate information to people is protected."
The SLWJA said: "The SLWJA condemns the inhuman attack on journalists and media worker by security forces. We seek IFJ's intervention to address the issues journalists are facing in Sri Lanka at present."
The FMM said: "The incident is a violation of journalists' right to report. The police has no right to manhandle journalists on duty under any circumstances. The FMM urges the Sri Lankan government to act lawfully and to ensure that journalists' rights to report in a free, fair and independent manner be protected."
The IFJ said: "The assaults on journalists and media workers in Mirihana violates international human rights standards and the Sri Lankan constitution and is a blatant attempt to quash press freedom and freedom of speech. The IFJ urges the Sri Lankan government to end their harassment and intimidation of journalists and the media, and immediately release all detained journalists."
Written By

IFJ Asia-Pacific
The IFJ represents more than 600,000 journalists in 140 countries.
For further information contact IFJ Asia-Pacific on +61 2 9333 0946
Find the IFJ on Twitter: @ifjasiapacific
Find the IFJ on Facebook: www.facebook.com/IFJAsiaPacific
Comments