Press Statement
Sri Lanka: Tamil journalists receive death threats
24 Jan, 2020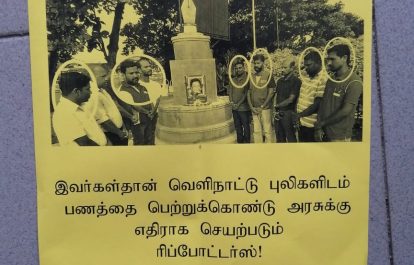 Leaflets threatening to kill seven Tamil journalists were left at the Batticaloa Press Club and a nearby bus stop in Batticaloa, a city in the Eastern Province of Sri Lanka. The International Federation of Journalist (IFJ) and its affiliates Sri Lankan affiliates, the Federation of Media Employees' Trade Union (FMETU) and the Free Media Movement (FMM) condemn the threat and urge authorities to guarantee the safety of the targeted journalists.
The leaflets were found under the door of the Batticaloa Press Club and at the nearby bus stop at 2:30 pm on January 23. The leaflet written in Tamil said "Beware! Beware! These are the reporters who received money from the Tigers abroad and acting against the state. We will soon execute them." The pamphlet contains a picture taken earlier this month of all seven attending a memorial of murdered journalist Lasantha Wickrematunge who was assassinated. Reports have stated the current president of Sri Lanka Gotabaya Rajapaksa was responsible for Lasantha's assassination.
The incident was immediately reported to the police, where the journalists requested protection. The police remained silent upon hearing the request for safety. Punniyamoorthy Sasikaran, an employee for Sirasa Television and one of the targeted journalists said that while he was scared for his own safety, he was more concerned about what might happen to his family.
FMETU said, "We condemn the death threat to the Batticaloa- Tamil Journalists and demand the Sri Lankan government to make a special inquiry and provide special protection to them."
FMM "urges all responsible stakeholders to . immediately conduct an impartial inquiry and identify those responsible for this action which could seriously threaten media freedom and democracy and to provide true and factual information of the incident whilst taking appropriate action against the perpetrators."
The IFJ said: "The outright neglect by the police to action the complaints is a gross violation of the journalists' right to safety. We condemn the threats made against the journalists and urge the government to provide special protection. It is crucial for authorities to establish a special inquiry into the threats, determine their source and ensure the safety of journalists and their families."
Written By

IFJ Asia-Pacific
The IFJ represents more than 600,000 journalists in 140 countries.
For further information contact IFJ Asia-Pacific on +61 2 9333 0946
Find the IFJ on Twitter: @ifjasiapacific
Find the IFJ on Facebook: www.facebook.com/IFJAsiaPacific
Comments