Press Statement
Sri Lanka: Ten years on: Two army personnel charged with assault
08 Aug, 2019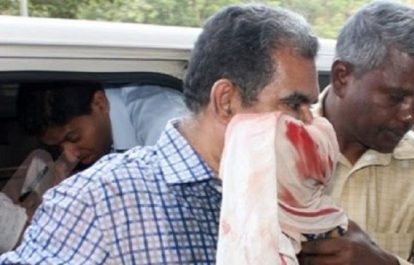 Two Sri Lankan army spies were charged with serious assault on a journalist and his wife as they drove to work in January 2009. The International Federation of Journalists (IFJ) and its affiliate the Sri Lanka Working Journalists Association (SLWJA) welcome the charges against the two army officials, yet note the failure to file charges against those responsible for other attacks and killings of journalists.
Prema Ananda Udulagama and Rajapaksage Lalith Rajapakse, military intelligence officers with the Sri Lankan Army were charged with serious assault on August 7, following the brutal attack on Rivira editor Upali Tennakoon and his wife. Upali and his wife were driving to work in January 2009 when they were attacked by the pair with blunt and sharp objects, with prosecutors noting the pair were lucky to survive the attack.
The officers were attached to the Tripoli Military Intelligence platoon of the Sri Lanka army.
The attack was the latest in a string of attacks against media workers in Sri Lanka, and came just two weeks after Lasantha Wickremetunge, editor of the Sunday Leader, had been murdered in his car in Colombo. Investigators have said that that Wickrematunge was killed by members of the same military intelligence unit.
SLWJA said: "We are happy to note that at last, the two suspects from military intelligence were charged on assault of the Rivira Editor, Upali Tennekoon and his wife. They may have followed somebody's instructions to do so, and hope that they will reveal the truth in the future on this case as well as other murders, assaults, abductions etc., of journalists during the time of previous government."
The IFJ said: "While we welcome the charges against two culprits in the assault of Upali Tennakoon and his wife, we reiterate the questions raised by SLWJA about the access to information surrounding the case. We also reiterate calls on the Sri Lankan authorities to ensure investigations into the serious media violations, including killings of journalists during the previous government."
Written By

IFJ Asia-Pacific
The IFJ represents more than 600,000 journalists in 140 countries.
For further information contact IFJ Asia-Pacific on +61 2 9333 0946
Find the IFJ on Twitter: @ifjasiapacific
Find the IFJ on Facebook: www.facebook.com/IFJAsiaPacific
Comments