Press Statement
Sri Lankan television journalist assaulted by political cadres
23 Sep, 2014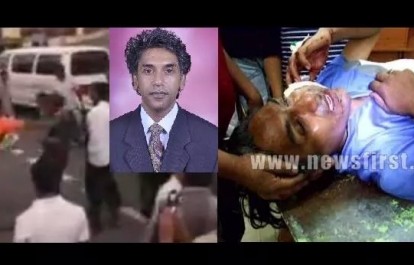 The International Federation of Journalists (IFJ) joins its affiliates the Sri Lanka Working Journalists Association (SLWJA) in condemning the attack on a TV journalist while covering a clash between political forces at Hali-Ela of Badulla district, Uva province on Monday evening, September 22.
Chandana Karuppuarachchi, a News1st TV correspondent, was attacked while he was filming a clash between supporters of ruling United People's Freedom Alliance (UPFA) and the main opposition United National Party (UNP). The clash began after the UPFA supporters attacked UNP office.
Karuppuarachchi was admitted to Badulla Hospital with injuries to his face. He had difficulty speaking but told his colleagues that he was attacked after being asked to stop recording the clash.
The SLWJA said: "We condemn the assault on the media covering the Uva provincial council. This is not a good situation for democracy."
The IFJ and the SLWJA urged the government and police to take action against those involved in assaulting Karuppuarachchi as soon as possible.
The IFJ Asia Pacific acting director, Jane Worthington, said: "This incident further indicates the hostility of political parties towards journalists in a country where journalists already face horrendous obstacles and intimidation as they try to perform their duties."
The IFJ added: "We stress the importance of journalists' being able truthfully report on political process as a way of strengthening democracy. Any incident that thwarts journalists from reporting is a violation of media rights and of the public's right to know. We condemn this attack and urge the government to probe into the case immediately."
Written By

IFJ Asia-Pacific
The IFJ represents more than 600,000 journalists in 140 countries.
For further information contact IFJ Asia-Pacific on +61 2 9333 0946
Find the IFJ on Twitter: @ifjasiapacific
Find the IFJ on Facebook: www.facebook.com/IFJAsiaPacific
Comments