Impunity
Still a Black January
31 Jan, 2018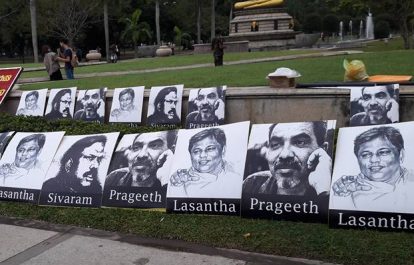 Let us light a lamp for suffering journalists in Sri Lanka to mark three years of the Yaha Palana government, says the Free Media Movement
Sri Lankan journalists have suffered in many ways while performing their professional duties and have been demanding that justice be done to protect their professional and personal freedoms. Black January is another protest demanding their rights and this year the theme was "Yaha Palana completes a three year period but January is still black" and was held at the Vihara Maha Devi Park in Colombo on the evening of January 30, 2018.
The Free Media Movement commemorated this day to demand media freedom and freedom of expression, and justice of journalist victims of abductions, assaults, disappearances and killings.
A large number of journalists from media organizations, civil society groups, and social activists participated in the commemoration program and solidarity joined the vigil. The protesters demand truth, justice and reparation for the victims of violence against journalists, and stressed the importance of creating a safe and secure working environment for journalists who are committed to the media profession.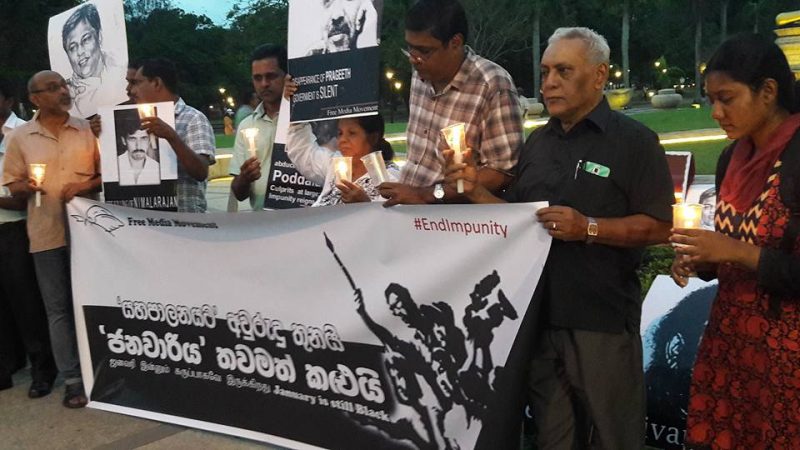 This protest – January is still Black – has been organized annually from 2011 and this year it was against the present government. Yaha Palana Government which came into power in January 2015 promised that they would give a high priority to media freedom and put forward a series of statements promising welfare of journalists including ending impunity.
Journalists who believed in freedom of the press gave their full support to the Yaha Palana Government when it come to power. The new government promised on many occasions that they would enact laws to end impunity and reiterated their responsibility to ensure security of journalists according to international conventions. But there has been no visible progress during the past three years regarding journalists' freedom. Although the Right to Information Act has been enacted, the government is silent on impunity which leads to personal and professional insecurity of journalists while reporting. Attempts to control journalists have also been fiercely resisted by the Free Media Movement.
Written By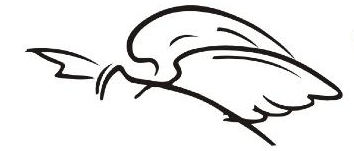 Free Media Movement
Free Media Movement c/o SLPI, No 96, Kirula Road Colombo 05, Sri Lanka Telephone: +94 777 394 959 Fax: +94 11 257 3279
Comments