Press Statement
Television journalists assaulted by university guards in Pakistan
22 Jun, 2017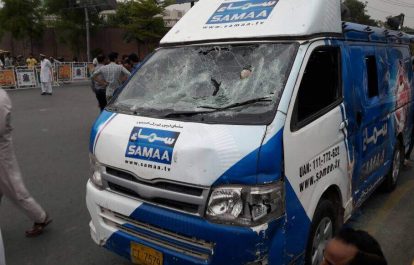 The International Federation of Journalists (IFJ) condemns the assaults on television journalists in two separate incidents in Faisalabad and Islamabad, Pakistan. The IFJ demands immediate action against those involved in the assaults.
On June 21, six cameramen and reporters of different TV channels were injured when the security guards of the University of Agriculture, Faisalabad thrashed them. Yousaf Cheema of Samaa TV was covering news related to the expulsion of students for social media posts when the security guards snatched the camera, thrashed the crew and damaged their vehicle. Journalists from NewsOne, Dunya News, Channel 24, and ARY TV channels reached at the site when they were informed about the incident. The university's security guards assaulted them as well. The police refused to register the case despite Minister of State for Information Marriyum Aurangzeb promising an action.
In another incident on June 20, students of the Madressah Haqqania beat up Din News employees and broke their camera. The TV channel staff claimed that they were reporting on alleged electricity theft by the management. During the incident, cameraman Rashid Azeem was beaten badly. A First Information Report (FIR) has been registered against the Madressah and the police is investigating the case.
Pakistan is one of the most dangerous countries in the world for journalists and the impunity for crimes against journalists is taking toll on journalists as the culprits of killings and assaults on journalists walk freely.
The IFJ said: "The IFJ condemns the assaults on television journalists in Faisalabad and Islamabad in Pakistan. The journalists were performing their duties of reporting public interest issues. The assaults should not be tolerated and the Pakistan government should thoroughly investigate these incidents and punish the culprits."
Photo: The Samma TV van after the attack. Credit: Freedom Network, Pakistan
Written By

IFJ Asia-Pacific
The IFJ represents more than 600,000 journalists in 140 countries.
For further information contact IFJ Asia-Pacific on +61 2 9333 0946
Find the IFJ on Twitter: @ifjasiapacific
Find the IFJ on Facebook: www.facebook.com/IFJAsiaPacific
Comments