Maldives
The dilemma of South Asian women journalists
14 Oct, 2015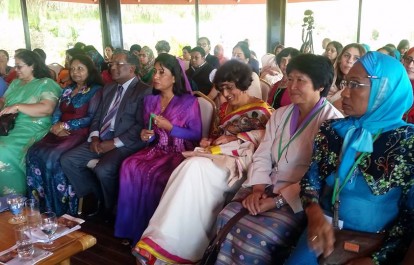 When in the Maldives, despite all the updates we journalists receive on issues of democracy and severe impacts of climate change, its breathtaking beauty makes it difficult to stay focused on issues. But this is exactly what some 50 women did at the beautiful Maldivian resort, Adaaran Select Hudhurafushi, last week.
When the South Asian Women's Action Network (SWAN) held its seventh annual conference in the Maldives on 6-7 October 2015, an imitative partnered by the Maldivian Network to Empower Women (MNEW) – a group that brings in some of the most vibrant Maldivian women who focus on women's development – the two-day conference proved a gathering of some inspiring women committed to influencing change.
SWAN has four thematic areas including 'Building a Gendered Media for the Women of South Asia' and it was no surprise when some old and persistent issues had to be still discussed.
The women journalists acknowledged that many issues have remained the same with minor progress being made, that the issues remained just as problematic as they were 20 years ago (such as portrayal of women in the media and women's footprint in the media industry as a whole), women journalists' reluctance to speak on issues such as sexual harassment, inability to get organized or to call for equal wages or to demand merit-based promotions. Change indeed seemed to be slow.
Yet, everyone agreed that there were great success stories among women journalists, in covering conflict to national politics to issues of policy, unbowed and unafraid. There was also a sense of pride that women journalists thrived, despite the daunting obstacles.
Evolution
The gathering of women agreed that while some issues persisted and new issues have come up, solutions too have been possible. There was new knowledge that could be used for the development of women journalists who still have less opportunity to develop their careers and capacities and technology has made it possible for women's voices to be heard better through digital platforms.
Drawing from the understanding reached across the Asia Pacific through a series of studies carried out by the International Federation of Journalists (IFJ) in collaboration with UN Women titled 'Inside the News: Challenges and Aspirations of Women Journalists in the Asia Pacific' (covering India, Pakistan, Nepal, Sri Lanka, Cambodia, Malaysia and Vanautu) – it was agreed that the studies have reconfirmed what was already known: That there were great disparities in the newsrooms where women often played second fiddle to their male counterparts.
Just as the surveys concluded, there was agreement that more women were in the newsrooms, thanks to the proliferation of television, community radio and online platforms. Yet, women still did not constitute one fourth of the newsrooms surveyed so the numbers were often inadequate to influence the level of change women desired in the newsrooms. The women went largely missing, still lacked the opportunity to hold decision-making jobs or technical jobs and were somewhere hidden in the newsrooms with only an insignificant number managing to break the proverbial glass ceiling.
Participants felt there were still disparities in the payment of wages, institutions lacked gender friendly policies and complaints mechanisms, there was great reluctance to deal with sexual harassment in the work place – the silent crime that rendered women disempowered largely due to lack of support– and the lack of facilitation for getting into networks and unions. There was also a great urban –rural divide with journalists working away from the urban centres having a host of additional issues to confront with.
As much as there was acknowledgement of these issues, the participants also focused on solutions. The women journalists and the other women professionals who from SWAN, spent time discussing the way forward.
One strategy was to replicate the best practices in the region and reference was made to what the IFJ research has already identified. Second: Creating stronger networks and lobbying for a quota in journalists' trade unions. Third: Develop alternate spaces such as online platforms. Fourth: To include men in the discussion and make them part of solution- seeking. Fifth: To build regional understanding on polices and frameworks that empower women and encourage their stay in the newsrooms. The Gender Charger, adopted in July 2014 by seven IFJ affiliates in South Asia was considered as a suitable policy to build on, regionally. Sixth: Using existing knowledge and learning tools to build their capacity. Seventh: To encourage senior journalists to actively mentor younger women journalists in newsrooms.
SAWN members collectively decided that women journalists of today needed to be trained in new areas instead of the 'branded beats.' New areas were identified for SAWN to train journalists in: Peace-building, disaster risk reduction, conflict reporting, forced migration, forced disappearances and others – all through a gender lens.
Photo credit: A section of the participants by Dilrukshi Handunnetti
Dilrukshi Handunnetti is a Sri Lankan journalist and activist and a regional gender coordinator for the SAMSN network.  She is also the Senior Associate Editor of the Sunday Observer and Co Convener of the South Asian Women in Media Sri Lanka Chapter.
Written By
Comments