Gender
There is more to unions than protests
16 Mar, 2018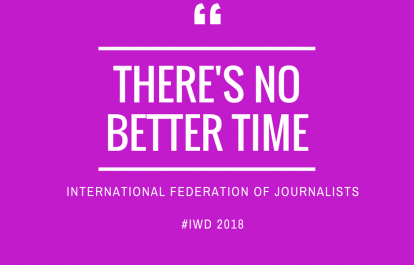 In order to increase the membership of women in unions, the real purpose of unions must be explained, says Lubna Jerar Naqvi.
With the increase in the number of women entering media, we need more women journalists in decision-making positions in unions and media organizations, so that their problems are not under-addressed.
The media is more vocal about issues faced by society but when it comes to its own rights there is little or no action. And if the issues are faced by women, there is even less noise against this, especially when it comes to promotions and increments.
For example, women in the media silently or unknowingly accept the conditions set by others and we often see them taking less salary compared to the men. They are oblivious of the 'glass ceiling' and are not doing enough to make a change.
The main reason for this is probably because there are not many women in senior positions and those who are in senior positions usually lack decision-making power. Most of these women are unable to make any difference for the women workforce and enforce better working conditions.
We see the same situation in journalist unions. Many journalist unions lack women leaders with decision-making powers which leads to many issues related to women going unaddressed.
As far as Pakistan is concerned, one of the reasons for the small number of women leaders in unions can be seen in the reluctance of women to join unions. Generally, women journalists don't readily want to even become members of their unions, citing family issues. And these are genuine issues which is why we need more women in lead roles to pave the way for others to follow.
But before that happens we must get women to become members. Unfortunately, many women in the media are reluctant to join unions. If they become members, they are reluctant to participate in different activities like protests, meetings and even women specific events.
For example, KUJ organized a meeting inviting women members on Women's Day 2017 to discuss their problems and to form a committee that would deal with sexual harassment and other issues faced in the work place. But only three to four women attended the meeting.
When asked, most women say they don't think unions can help them and attending such events will only put them in the spot with their boss. This was the second most cited reason after restrictions from the family.
Saima a young media graduate recently joined a channel, said she doesn't want to join the union because it meant she would be always on the streets protesting. When told that being a member of the union would help her raise her voice for her rights. "What rights?" She asked wryly. "I was given special permission to join the media because my brothers supported me. My father said that the media was a dangerous place to work, where people worked long hours and all through the night. He wasn't ready for me to work the night shift."
Her father believes that unions only protest on the streets and clashes with authority. She refused to apply for membership, adding that she was impressed that there were women in the union, but said she wasn't 'brave' enough to protest.
This seems to be the general view of many women at least those joining the media.
"I don't want to join the union," said Maria who works for a large media group as a subeditor. "I can't go out all the time protesting and marching on roads my husband would freak out. And I don't want to be among many men – it's too weird."
Others share this view, "If you are there then I will go with you," said 30-year-old Shafaq, adding, "But what is the use of these unions."
It is important to encourage women to join unions but before that they need to understand that there is more to unions than protests and marches, and unless women are in stronger positions in unions, their problems cannot be solved.
They must understand that more women leaders in unions will eventually be translated in the workplace.
Written By
Comments